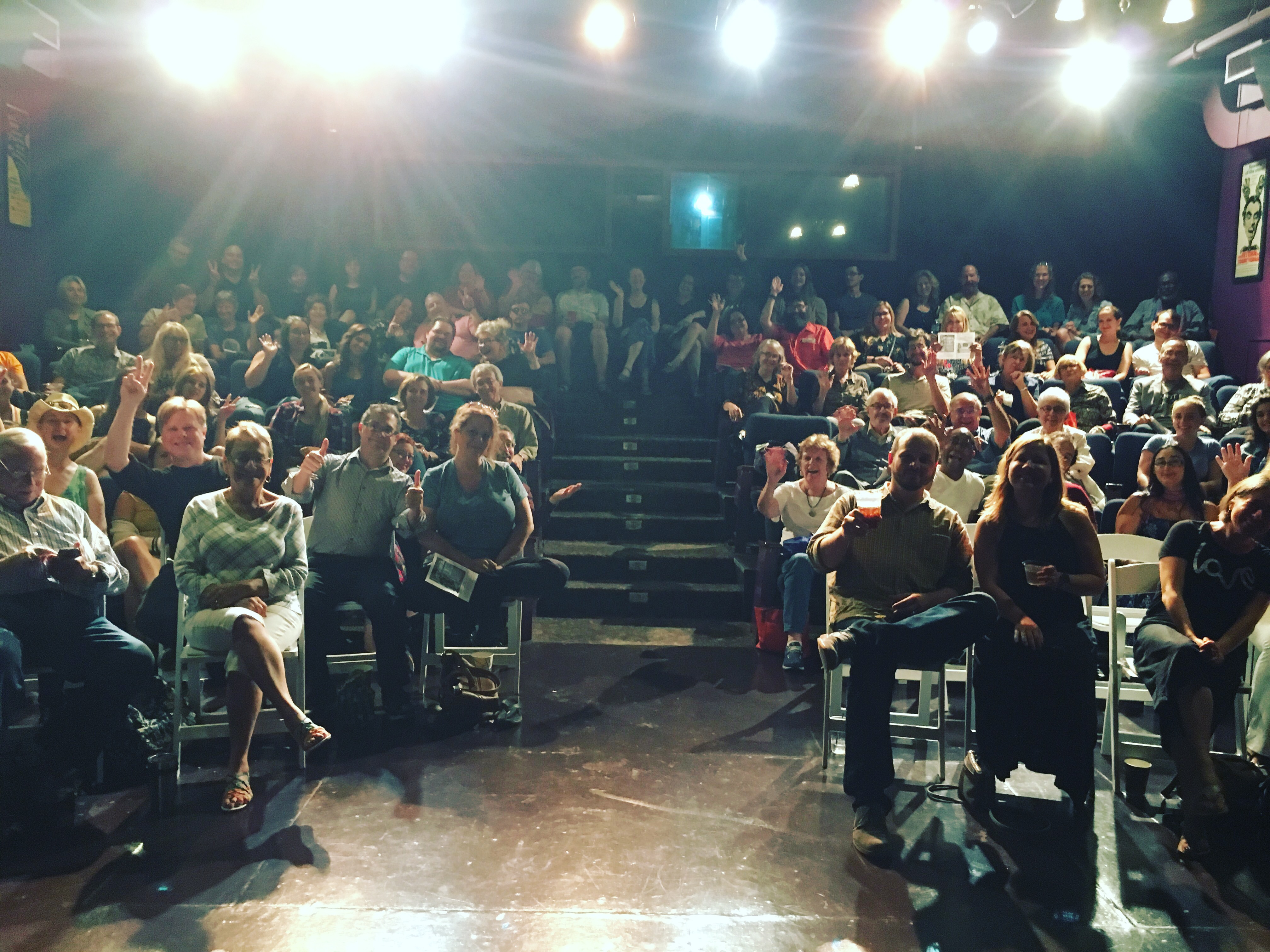 Gainesville theatre artists exhibited their talent to a sold out house at the Hippodrome Theatre on Sunday for the 24 Hour Play Project, a Hippodrome Company Member Project created by Stephanie Lynge. Local playwrights had a night to write, before diving into rehearsal the next morning on Sunday, June 10, with their directors and actors. Despite the time constraints, their words shined light on such topics as the importance of listening, tyrannical apocalypse, LGBTQ themes, growth under duress, mental illness, nature and family in a stage production of 8 diverse plays.
This project integrated artists from across the Gainesville community, including the University of Florida School of Theatre + Dance, Acrosstown Repertory Theatre, Actors' Warehouse, Gainesville Community Playhouse, Santa Fe College Theatre Department and the Hippodrome Theatre, and the actors ranged in age from a middle school student to actors in their 50s and 60s. The previous night, the playwright picked their director at random, along with their cast size and gender ratio of the actors.
The project opened with Esteban Alvarez III's play "What's Up, Doc?" — a comedic hit in which a patient with suspected STDs and a patient with a sprained toe were confused, and the med student gave switched care advice accordingly. The cast starred Bill Eissler, Rachel Jones, Laura Palacio and Kareena Wallace."Exist, Pursued by a Bear," a play on a famous stage direction in "The Winter's Tale", came from from the Shakespeare-inclined mind of Chuck Lipsig, naturally. The bear's entrance was a crowd-pleaser, indeed. The play was directed by Matt Lindsay and starred Bryan Cespedes, Ruth King, Megan Poole, and Amei Soleyn.
"A House Divided" written by Michael Presley Bobbitt and directed by Sara Morsey, featured four women on lock-down in a tyrannical apocalypse, and starred Tereva Crum-Stauffer, Stephanie Norman, Lauren Robinson(an understudy for the Hipp's current mainstage) and Katey Sands.  A favorite line included, "It's the end of the g-dd–n world and their ain't a single vibrator in the whole camp."
"My Pear Lady," written by Sloane Henry and directed by Lola Bond explored the significance in recognizing things for what they are – not what they are not, through the premise of fostering a plant after the death of a beloved pet, Pickle. Meanwhile, dog up for adoption was nearly euthanized. Fortunately the significant other to the protagonist adopted him in time, and he could be loved for who he was — not for not being Pickle. "My Pear Lady" starred Rowan Housden, Kristina Johnson and Katie Pankow.
Channing O'Halloran, 16, nearly stole the show with her role in "The Lydia Effect" by Jane Arrowsmith Edwards with her line, that also worked for fulfilling the required Tony's reference, "I'm sorry you have cancer but you have a better chance of recovery than becoming a Broadway actor." The show was directed by Susan Christophy and also starred Quil Cauchon, Daniel Perea and Katryna Richter.
One play even verged on exiting the atmosphere, as in Gregg Jones's "Genesis Recall,"–  "Actually he is not my father. And I am an alien." Directed by Gabrielle Byam and starring Aryana Himle, Lizzy Lance, Mandy Fugate and Carly Rubin.
"Rolling on a River" by Deborah Dickey, had a theme of overcoming fear in more ways than one — with one character's fear of the river, or anything really, and the other woman's fear that the boy-in-question didn't like the her back. The play was directed by Mikell Pinkney and starred Amanda Edwards, Adam Lishawa and Kate Osborn.
Charlie Mitchell's "Rom-Com" took a lighter perspective with some break-up zingers, "I haven't been with a lot of guys but I'm pretty sure you're not very good at sex," and "If you wrote the kamasutra, it would be a pamphlet," and probably the mosts brutal– Woman: "I told you I loved you." Man: "I didn't." The play, directed by David Young and starring Kayla Caslow, Ethan Ellis, Kaitie Graves and Harold Kennedy, lightened up as the break up passed with lines such as, "Am I the gay friend? … Girl you better wash that man right outta your hair!"
Responding the success of the project, Lynge said, "The Hippodrome has always been supportive of new work and this seemed like the perfect opportunity to bring together all of the community of Gainesville.  We have a wonderful, amazing theatrical energy in the center of Gainesville, we couldn't have done it without every single solitary group that joined us — absolutely everyone was represented and we could not be prouder of bringing everyone together, especially at a time like this when the state has cut support for the arts. We could not be prouder of all the work from everyone, from every theatrical group here in Gainesville, and we look forward to being able to do it again."
Stephanie Lynge and Cameron Pfahler were the producers, Neil Bearden was the technical director, Earl McKee was the stage manager, Franka Perez was the assistant stage manager and Laura McNeill was the production assistant for the 24 Hour Play Project.
To keep up to date with new projects, mainstage productions, cinema screenings and education opportunities, follow @hipptheatre on Instagram, Twitter and @HippodromeTheatre on Facebook and check back on thehipp.org!