Come see what the Hippodrome has to offer on our Cinema Stage and Basement! Programming includes events such as our Basement Sessions, Jazz Series, improv comedy nights, concerts, guest performers, festivals, open mic sessions and much more. Something fun is always happening at the Hipp!
Dance Class 9-10 pm and Dance Party 10 pm -1 am
Get ready to salsa the night away at Hippvanna! With DJ Elio Piedra providing the beats, it's sure to be a lively and exhilarating night on the dance floor. Before the party begins, Marta and Salil from the Gainesville Bachata community will teach a bachata class, a partner dance originating in the Dominican Republic. Learn some steps and moves that you can use during the night and at any Latin party! The dance class from 9-10 pm is the perfect opportunity. And don't worry, it's just a $5 fee to participate in the class.
Once the dance floor officially opens at 10 pm, the real fun begins, and you can dance the night away until 1 am. It's an excellent chance to let loose, enjoy yourself, and meet other dance enthusiasts who share your passion for salsa.
Remember to wear comfortable dancing shoes and bring your best energy to make the most of this exciting event. Have a fantastic time at Hippvanna and enjoy the rhythmic night of salsa dancing!
This program is proudly presented by the Hippodrome Theatre and Elio Piedra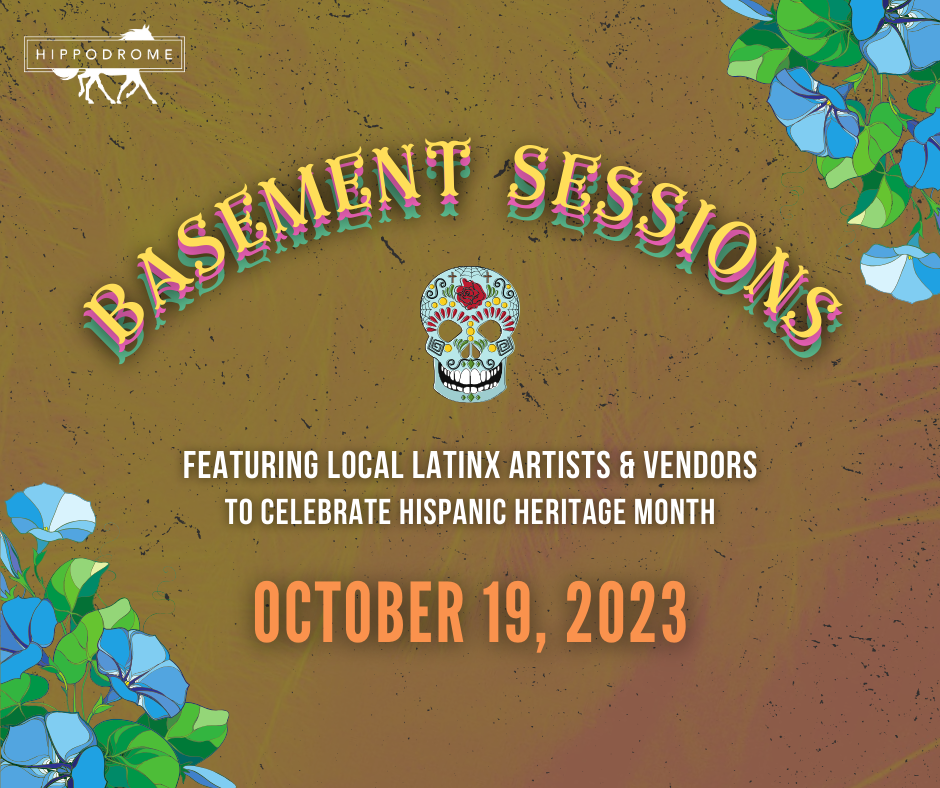 This program is  presented by the Hippodrome Theatre
Come to The Hippodrome's basement to listen to new sounds, experience art and meet interesting and talented people! Basement sessions is intended to unite the different music communities by highlighting raw local talent of all genres. 

This edition of Basement Sessions will honor and celebrate Hispanic Heritage month by featuring local artists, musicians, and vendors that are Hispanic and/or Latinx! Join us for an evening full of music, dancing, art, and vendors. Bring your friends, family, or pets! All are welcome. 
$8-$15 Sliding Scale 
This program is proudly presented by the Hippodrome Theatre.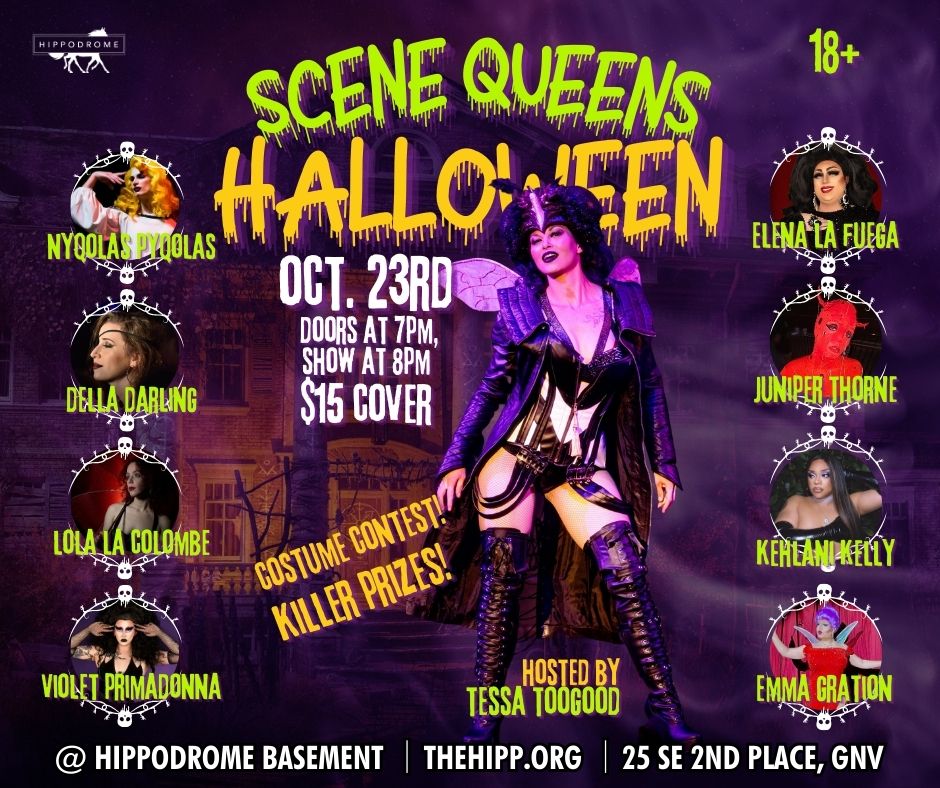 This program is proudly co-produced by Tessa Toogood,Nyqolas Pyqolas, Della Darling, Lola La Colombe, Violet Primadonna, Elena La Fuega, Juniper Thorne, Kehlani Kelly, Emma Gration and the Hippodrome Theatre. 
Nyqolas Pyqolas, Della Darling, Lola La Colombe, Violet Primadonna, Elena La Fuega, Juniper Thorne, Kehlani Kelly, Emma Gration
October 23, 2023 - Doors Open 7:00 pm, Floor Show at 8:00 pm
Experience the ultimate blend of drag, burlesque, and electrifying performances at Hipp Basement! From local talent to lip syncs and striptease, join us for an evening that's all about celebrating self-expression and embracing the extraordinary. Cheers to a 40-minute preshow "cocktail" hour and dancing with drinks after the show!
18+ ADULTS ONLY, IDs checked at the door
Held in the Hippodrome's Basement
Costume Contest! Killer Prizes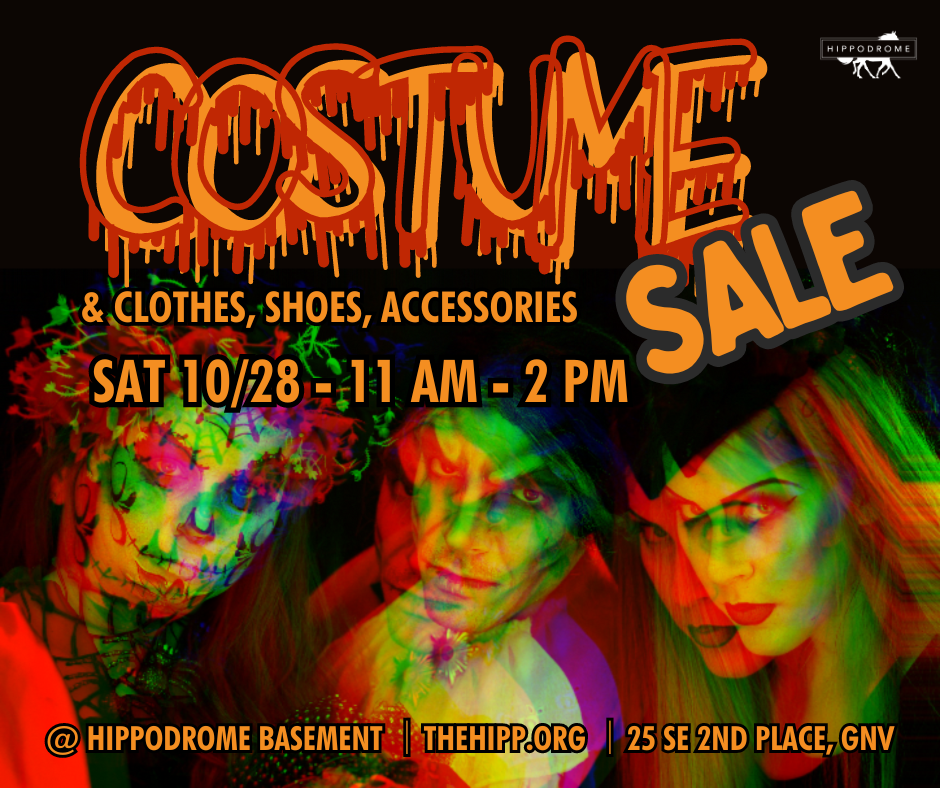 includes everyday clothes, shoes and accessories
Saturday, October 28th, from 11 am to 2 pm in the Hippodrome Basement
Whether you're gearing up for Halloween or a themed event, this is your chance to snag a unique, one-of-a-kind outfit that will turn heads and steal the spotlight. Join us and transform your style into something truly special at the Hippodrome Costume Sale! And yes we will also be selling everyday clothes, shoes and accessories! 
We're offering a collection of 200+ exquisite costumes and remarkable items, each with a story to tell. Some of these remarkable pieces even hail from the renowned Tony Award-winning costume designer and beloved founder of the Hippodrome Theatre, Marylin A. Wall (1943-2021).
Discover the magic, history, and sheer artistry behind these costumes that have graced the stage and captured the hearts of our audience. Mark your calendars and prepare to step into a world of limitless possibilities at the Hippodrome Basement. Make your costume dreams a reality at our Costume Sale – where the extraordinary becomes your own!
All costumes are priced to sell! 
Friday, November 17, 2023 - 6-8pm
A documentary project directed by Francisco Campus-Lopez about Laguna SanIgnacio, the last pristine gray whale breeding ground and nursery on the PacificCoast of Baja California. The laguna was the focus of an unprecedented successful international campaign to stop a proposed Mitsubishi- Mexican Government salt works there a generation ago and continues to be a site of innovative community-based sustainability efforts. Recently, the project expanded, bringing on Xiye Bastida to connect the whale lagoon project that started a generation ago to the challenge of climate change facing this generation.
Join us for a preview screening, followed by a Q&A with filmmaker Francisco Campos-Lopez and climate justice activist Xiye Bastida.
This event is free and open to the public!