Art Gallery at the Hippodrome
The Hipp Art Gallery offers artists a beautiful space to showcase their talent, often engaging with the themes of the current mainstage production.
Current and Upcoming Exhibits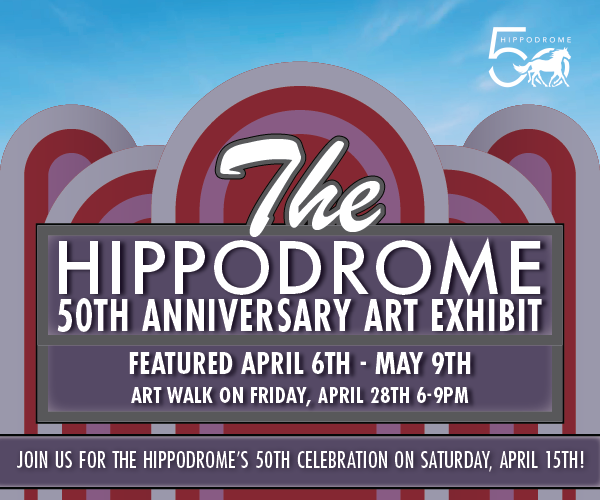 Join us at the Hippodrome Gallery for our 50th Anniversary Art Exhibit! Featuring two permanent lobby installations alongside a gallery exhibit highlighting pieces from the Hippodrome's rich history. Come by from 1-5 pm on April 15th for our 50th Anniversary Birthday Open House to get a peek behind the curtain! 
On display April 6th – May 9th.
The Hippodrome Theatre Art Gallery invites individuals or collaborators to submit proposals for solo or small group exhibitions during select dates throughout 2023. Proposals may be for existing or new work. Exhibitions average 4-6 weeks and include a public reception.
Please email artgallery@thehipp.org with any questions.
Sample Contract here
The Art Gallery can also be rented for private functions.