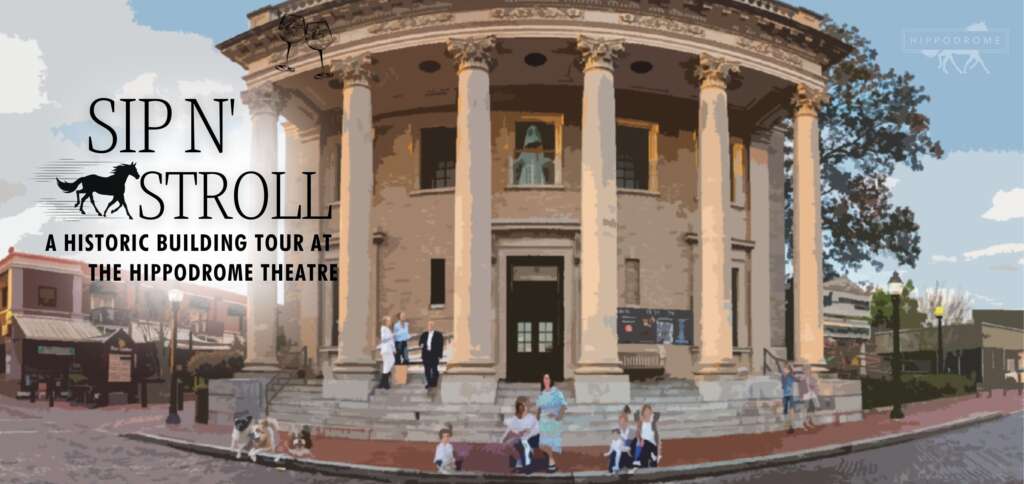 Tour of the Hippodrome Theatre
Join us for a Sip and Stroll, an exclusive behind-the-scenes building tour of the Hippodrome Theatre. 
During this tour, you'll get to explore areas of the Hippodrome that are typically off-limits to the public, and uncover hidden secrets of the theatre. This is your chance to ask questions and gain insight into the inner workings of the Hippodrome. Your journey will take you through the Hipp's Lower Level basement and up to the little-known third floor, where the dedicated Hipp employees work tirelessly to maintain Gainesville's beloved theatre. Don't miss out on this unique opportunity!
The admission includes one complimentary drink from our bar. 
Pricing: $25 includes one drink (for ages 21 and up –  please bring ID)
Age: 12 and up 
Accessibility: It is a 2 hour WALKING tour and involves many steps.
Dates:
Sunday, October 15 – 2 pm
Sunday, January 14 – 5 pm
Sunday, February 11 – 5 pm
Sunday, March 10 – 5 pm (Daylight saving)
Sunday, April 21 – 4 pm
Sunday, May 12 – 2 pm (Mother's Day)
Sunday, June 16 –  5 pm  (Father's Day)
Sunday, July 14 – 5 pm