The Hippodrome Young Filmmakers Competition is open to all young filmmakers ages 12-18 and is FREE to enter.
Films will be judged based on narrative strength, strong characters, and filmmaking skill.
Shorts can be submitted in the following categories: Narrative, Documentary or Animation. The theme is "What's Your Story?" Be creative! Theme is open to interpretation. 
First place prize: $50
Second place prize: Cinema pass for two
Films should be no longer than 5 minutes long. Films longer than 5 minutes will not be shown.

To enter more than one film, you MUST use separate entry forms. Each film must be submitted with its own form via email to gabby@thehipp.org –– this includes submissions from schools.

Deadline for submissions is Monday, April 20.
Films will be screened Thursday, April 30 at 5:30 p.m. in the Hippodrome Cinema

The Hippodrome Jazz Series is back! The Hipp is proud to partner with the University of Florida School of Music to bring this hit series back to the Hippodrome Lower Level. This series will continue every Monday, Feb. 10 through April 20 2020. Doors are at 7:00 p.m. and the music begins at 7:30 p.m.
Our jazz nights present a range of musicians. The full schedule of performers and links to advance tickets are below. The Hippodrome is proud to host such talented musicians to bring back jazz and keep Gainesville Hipp!
February 10 – Tabajara Belo's Brazilian Quartet. Get your tickets HERE
February 17 – Clyde Connor. Get your ticket HERE
February 24 – Larry Newcomb. Get your tickets HERE
March 2 – Thomas Allain & Carlos Vizoso. Get your tickets HERE
March 9 – Peter McCann & Ethan Nguyen. Get your tickets HERE
March 16 – Jose Valentino and Robert Acevedo. CANCELED
March 23 – Decyo McDuffie. CANCELED
March 30 – Zach Landress and Nicholas Saavedra. CANCELED
April 6 – Randolph Lee and Jemmie Robertson. Get your tickets HERE
April 13– Giselle San Filippo and Kayton Lane. Get your tickets HERE
April 20– Mindwalk. Get your tickets HERE
The Hippodrome Theatre is excited to announce the sixth production in our Hipp Unplugged reading series: To Be, written and performed by Candace Clift and directed by Ariel Reich.
About To Be: What happens when you wake up to a life that has turned upside down and nothing is what it once was? To Be is one woman's humorous, sometimes wrenching, reckoning with breast cancer, mortality and Hamlet. It is a journey of hope and desire that wrestles bravely with life's most important question.
To Be
Feb. 10 & 11
7:30 p.m. – 9 p.m.
What is the Hipp Unplugged?
The Hipp Unplugged aims to bring Gainesville even more great theater that is more challenging than what we would be able to display with our regular mainstage season. With this series, we hope to also give a voice to underserved and underrepresented playwrights and provides our company and artistic community a place to come together and grow.

With The Hipp Unplugged, you can be the first to experience the works of promising artists in our intimate Cinema stage for just $10 a ticket. There will be a talkback after each performance with the director and cast to discuss the work performed!
---
Up Next
March 2 & 3
Company Member Gregg Jones directs 26 Pebbles by Eric Ulloa
On December 14, 2012, Adam Lanza walked into Sandy Hook Elementary School and killed twenty-six innocent souls before taking his own life. These twenty-six innocent deaths, like pebbles thrown into a pond, created ripples and vibrations that were felt far beyond the initial rings. This is the story of those vibrations
April 6 & 7
Company Members Clint Thornton and Bryan Mercer direct an original piece, Quicksand
Set in timeless areas of the Central Florida swamps, Quicksand, an original piece created by Hipp Company members Bryan Mercer and Clint Thornton, is a humorous and haunting exploration of a rigorous childhood amongst ghostly allies and corporeal monsters. A hypnotic soundscape created live by the performers underscores porch-told stories that span the hilarious, heartbreaking, and surreal aspects of a young life molded by moss, alligators, and beautifully powerful water.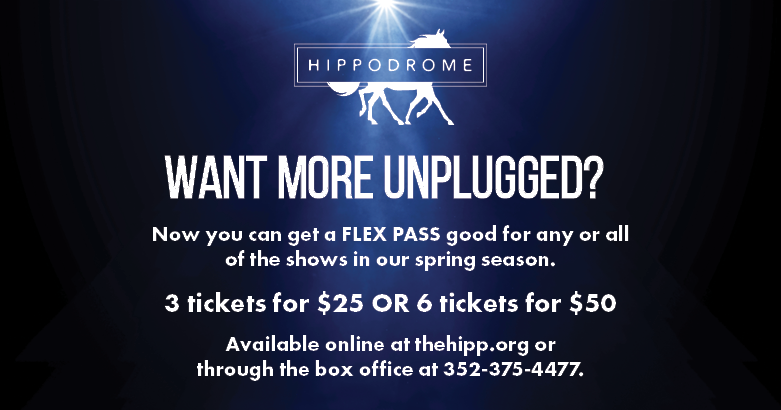 Beloved Gainesville actors and married couple Nell Page and Kevin Rainsberger will take the stage to perform "Love Letters" by A.R. Gurney, on the Hippodrome Mainstage Monday, February 10 at 7 p.m.
All proceeds raised will benefit the GO2 Foundation for Lung Cancer.
In LOVE LETTERS, Andrew (Kevin Rainsberger) and Melissa (Nell Page) share the details of their separate lives through the course of about 50 years of intimate cards, notes and letters. What began as birthday thank-you notes and summer camp postcards somersaults into a decades-long correspondence that beautifully tracks the characters as they each go to college, get married and have children.
Long-time Hippodrome supporter, Caren Gorenberg, is a 13-year survivor of stage IV lung cancer and creator of Gainesville's Run Amuck with the Duck, a 5K walk/run at NFRMC in support of the Go2 Foundation for Lung Cancer.
[spacing margin="no" border="no"][/spacing]
Join us for a night of delicacy and exuberance while supporting the mission of the Hippodrome![spacing margin="no" border="no"][/spacing]
To honor 45 years of spectacular theatre, the Hippodrome's Board of Directors is proud to present
A Gala in Three Acts
.[spacing margin="no" border="no"][/spacing]
This unique, theatrical celebration will take place on
Friday, September 28th, 2018, beginning at 6:00 p.m.
[spacing margin="no" border="no"][/spacing]
Don your funky, creative cocktail attire and enjoy:
>
signature cocktails,
>
hors d'oeuvres by Mark's Prime Steakhouse,
>
and a delicious meal by Ibti's Catering,
as we explore the past, present, and future of our beloved theatre.[spacing margin="no" border="no"][/spacing]
Limited seating is available. Tickets are reserved on a first come, first served basis.[spacing margin="no" border="no"][/spacing]
Spectacular entertainment by:
>
The Scott Wilson Trio
>
Kelly Atkins
>
Matthew Morgan
>
Bryan Mercer
[spacing margin="no" border="no"][/spacing]
A
silent auction featuring pieces by world-renowned artists
and packages filled with fantastic items and opportunities is available exclusively to guests.[spacing margin="no" border="no"][/spacing]
Friday, September 28 at 6:00 p.m. at the Hippodrome Theatre
Funky, creative cocktail attire.
$150 per person.
Tickets on sale now at (352) 375-4477 and 
thehipp.org.
[spacing margin="no" border="no"][/spacing]
Please visit
GALA TICKETS
to reserve your tickets, or call our Box Office at 352.375.4477.
Questions or special requests please call Development Associate Matthew Dibble at (352) 373-5968 x243.
Jacaré Choro presents "Terra Brasilis: Reimagining Early Music in Modern Times" at the Hippodrome Theatre! Sunday, May 6, doors open at 6:30 p.m., and the music begins at 7:30. After the show, mingle with the musicians over the Brazilian drink special of the evening, Caipirinhas!
Jacaré Choro performs unique interpretations of Brazilian music through its creative arrangements and adaptations of genres to celebrate Brazil's rich musical history.
For those already familiar with Brazilian music, we hope the rich harmonies, contoured melodies, and syncopated rhythms will evoke feelings of nostalgia, or as we say in Brazil: saudade. For newcomers, please allow us to share our love of Brazilian music with you!
See Vadim Arsky on saxophones, Tabajara Belo on guitar and mandolin, Aaron Colverson on violin, Larry Crook on percussion and Welson Tremura on guitar and voice!
Tickets are $10 seniors and students and $15 general public.
Bring your instrument, your voice, your poetry or just yourself to Mandisa Monday at the Hipp Lower Level! Starting at 8:15 p.m. on Monday, April 30, be a part of the coming together of various artists: musicians, poets, storytellers and YOU. Second-best to showcasing your hidden talent, Mandisa Monday is FREE.
Mandisa Haarhoff is a South African actress, playwright and singer (qualifies only at open-mics, karaoke and home shower). She started the Mandisa Monday open mic two years ago, with The Bull as her home base.
The esteemed Gainesville string band, Pine, will be playing in the Hipp Cinema on Sunday, April 29. Doors at 5:30, music starts at 6:30 p.m.
Pine will play two intimate sets of live music, with an intermission for time for refreshments at the bar.
A little about Pine: Liberty Phoenix and Dan Stepp came together to create a folky sound with intimate harmonies that are supported with a beautifully talented string band. They have been lucky enough to add on Brian Turk on Stand Up Bass, Andrew Cook on Violin and Mark Archer on Dobro.
Purchase tickets online at https://tickets.thehipp.org/TheatreManager/1/online?event=1856
or call the Hipp Box Office 352.375.4477
Check out Pine's music here:
https://www.thebandpine.com/music
See THE THREETLES live Saturday, April 14 in the Hipp Lower Level! Doors at 8 p.m. and the music starts at 9 p.m.
The Beatles started in the underground of the Cavern Club in Liverpool, England, before going on to lead the British Invasion across the Atlantic.
And now, right here in Gainesville, the Threetles play the Hipp Lower Level! It's the closest band to the Beatles, in the location closest to the Cavern Club in Gainesville!
The Cavern Club was a warehouse cellar venue with columns and stone walls — just like the Lower Level. Get ready to twist and shout, and come on down to the Hipp to rock out to your favorite Beatles tribute band, THE THREETLES, keeping the beat alive.
This is a donation-based event, all proceeds donate the non-profit hosting, the Hippodrome Theatre. Arts funding was slashed this year, and the Hippodrome Theatre is doing everything possible to keep bringing you excellent theatre, cultural, and special events like this one!
Belt out your favorite tunes starting at 7:30 p.m. on April 13 at Karaoke Night at the Hippodrome as part of 352Creates' monthly "Create in Place" initiative.
352Creates believes that creativity connects our community and makes us healthier and stronger. Anyone, using even the simplest of materials, can create something amazing. Artists can get some relief by letting out their expression and students getting away from campus for the evening can come together to absorb some of the vibrant downtown culture and share a microphone!
The Hipp hosts karaoke night to act on the theatre's commitment to providing community events that bring people together. Events like this encourage people to discover the magical destination of downtown Gainesville and explore their creativity.
Anyone can step into the limelight and sing the hits from their high-school days, their childhood favorites or chart-topping classics! Whatever it is, this night is sure to be fun and fabulous.
When the Hipp puts on events like this, the Hipp becomes a place where a diverse group of people can come together and feel a sense of community while having a good time. The event is free and open to the public, and the basement bar will be open for those who need a little liquid courage before their performances.