Historic Buildings come with Historic Challenges.
The Hippodrome's historic elevator will not be available during the run of our holiday shows. While we work with city officials to find a permanent solution, we will be offering a simulcast in the Hipp Cinema for select performances.
If this impacts your ability to see the show, please contact the box office to arrange the best accommodations. Contact us at boxoffice@thehipp.org or 352-375-4477. Box Office is open Wed-Sun from 12 to 5 or the latest show time.
The Ultimate Christmas Show
Book by Austin Tichenor and Reed Martin
November 24 - December 23
This audience favorite is back! The Ultimate Christmas Show (abridged) bursts with festive, slapstick fun as these cheerful comedians celebrate all of our favorite holiday traditions—at the same time.
November 25 - December 23
"A Christmas Carol" is a beloved Gainesville holiday tradition featuring singing and storytelling people of all ages will enjoy. Join us as we celebrate Scrooge's redemption through dance, laughter, and heartfelt songs, and become part of this cherished annual family and community event.
Directed by Nichole Hamilton
Monday, December 4, 2023 at 7 pm
In 1692, in a Salem Village barn, Tryphena, a sixteen-year-old, yearns for more than housework. Her brother Cuddy plans to escape religious extremism, while Dorcas, living with the Marlboros, confronts past trauma. As tension in town grows, they face the harsh realities of social norms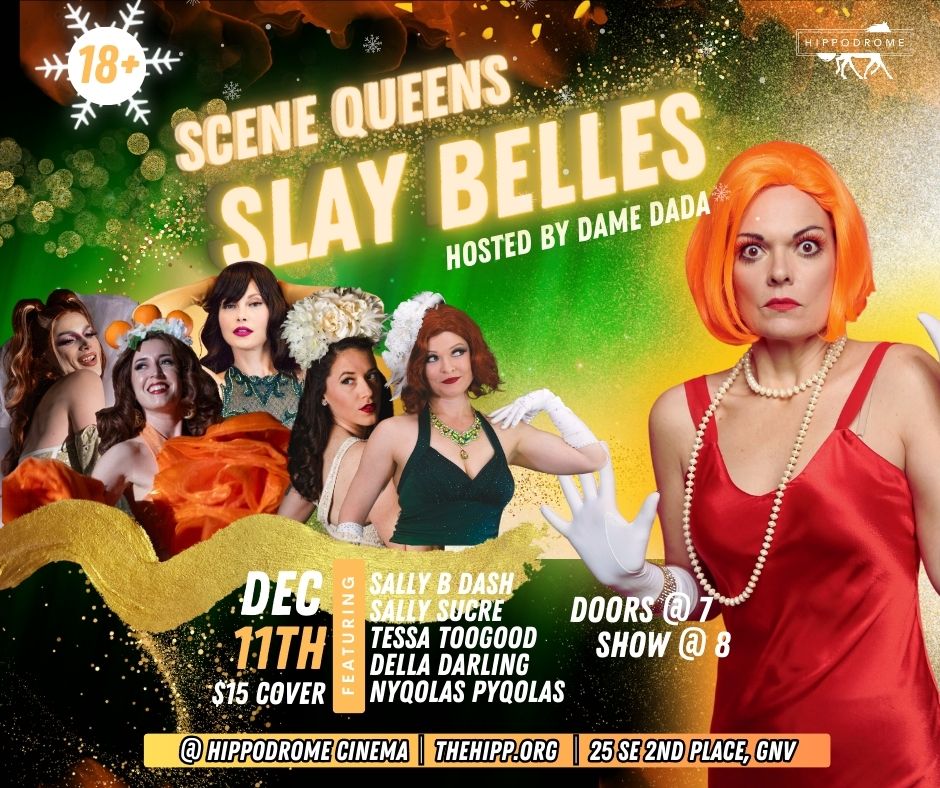 This program is proudly co-produced by Nyqolas Pyqolas, Dame Dada, Sally B Dash, Sally Sucre, Tessa Toogood, Della Darling and the Hippodrome Theatre. 
Sally B Dash, Sally Sucre, Tessa Toogood, Della Darling, Nyqolas Pyqolas
Monday, December 11, 2023 - Doors open 7 pm and Show starts at 8 pm
Experience the ultimate blend of drag, burlesque, and electrifying performances at Hipp Basement! From local talent to lip syncs and striptease, join us for an evening that's all about celebrating self-expression and embracing the extraordinary. Cheers to a 40-minute preshow "cocktail" hour and dancing with drinks after the show!
18+ ADULTS ONLY, IDs checked at the door
Held in the Hippodrome's Basement
Book and Lyrics by Brian Yorkey and Music by Tom Kitt
January 26- February 18; Previews January 24-25
Get ready for an emotional rollercoaster ride with "Next to Normal", the groundbreaking Tony Award-winning musical that explores the highs and lows of a modern-day family struggling with mental illness. With an electrifying rock score and heart-wrenching lyrics, this Tony Award-winning show will leave you on the edge of your seat from start to finish. 
The Hippodrome Theatre's 51st season EMPOWER delivers a powerful lineup of stories showcasing strength, perseverance, and empowerment, including the brilliant, foul-mouthed women trying to save the world in  "POTUS: or, Behind Every Great Dumbass Are Seven Women Trying to Keep Him Alive",  the guys holding the holiday together through teamwork in the return of  "The Ultimate Christmas Show (ABRIDGED)". Scrooge finds his heart in our holiday tradition "A Christmas Carol", a family struggles through the complexities of mental health in the Tony Award-winning musical "Next to Normal", and two artists challenge societal norms in the modern comedy "White". And as always, stay tuned for our summer musical announcement, which promises to be an exciting addition to an already incredible lineup.