Beloved Gainesville actors and married couple Nell Page and Kevin Rainsberger will take the stage to perform "Love Letters" by A.R. Gurney, on the Hippodrome Mainstage Monday, February 10 at 7 p.m.
All proceeds raised will benefit the GO2 Foundation for Lung Cancer.
In LOVE LETTERS, Andrew (Kevin Rainsberger) and Melissa (Nell Page) share the details of their separate lives through the course of about 50 years of intimate cards, notes and letters. What began as birthday thank-you notes and summer camp postcards somersaults into a decades-long correspondence that beautifully tracks the characters as they each go to college, get married and have children.
Long-time Hippodrome supporter, Caren Gorenberg, is a 13-year survivor of stage IV lung cancer and creator of Gainesville's Run Amuck with the Duck, a 5K walk/run at NFRMC in support of the Go2 Foundation for Lung Cancer.
The Hippodrome Theatre Gallery is proud to present a solo exhibit by artist Cindy Steiler. "Vestiges" will run through February 12, 2020 with an opening reception on January 31 from 7 p.m. – 10 p.m. during Art Walk. 
"Vestiges" is a series of multimedia photographs exploring the complex intersections and transient nature of time, memory, and place. Through these modern and antique images altered by Victorian-era photographic processing and handwoven textiles, the artist asks us to consider the ephemeral qualities of home and human connection. "I'm strongly drawn to photographs," says Steiler "both captured by myself and found, as they represent fixed points removed from time, essential truths of moments that take on different meanings in context."
Steiler is a multidisciplinary artist and alternative process photographer living and working in Gainesville. Numerous solo and group exhibits, residencies, publications and workshops have taken her around the world.
---
"Vestiges" will run through February 12 with an opening reception during Gainesville Artwalk on January 31 from 7- 10 pm. The Hippodrome is located at 25 SE 2nd Place Gainesville, FL 32601.
Gallery hours are Tuesday – Sunday 12 p.m. until "close of shows," and Monday – Friday by appointment. For additional information, please contact Anna Verney at (352)375-4477 or artgallery@thehipp.org.

The Hippodrome Theatre is excited to announce the fifth production in our Hipp Unplugged reading series: Fireflies, written by Donja R. Love and directed by Ryan Hope Travis.
About Fireflies: Somewhere in the Jim Crow South, the sky is on fire. A pregnant Olivia's fierce speechwriting is the true force behind her charismatic husband, Charles, and his successful movement, galvanizing people to march towards freedom. When four little girls are bombed in a church, Olivia and Charles' marriage is threatened—as this tragedy and years of civil unrest leave Olivia believing that "this world ain't no place to raise a colored child".
"I was moved by Mr. Love's willingness to imagine, amid the terror of the times…other kinds of lives than the ones that history books offer." —The New York Times.
"A jaw-dropping and explosively dramatic two-hander…a powerful tale of love flashing its light in the dark…FIREFLIES is a drama of extraordinary depth and complexity…Love thrillingly crafts an intimate story that comes to feel cosmic in its enormity by the end." —TheaterMania.com.
Fireflies
Jan. 13 & 14
7:30 p.m. – 9 p.m.
What is the Hipp Unplugged?
The Hipp Unplugged aims to bring Gainesville even more great theater that is more challenging than what we would be able to display with our regular mainstage season. With this series, we hope to also give a voice to underserved and underrepresented playwrights and provides our company and artistic community a place to come together and grow.

With The Hipp Unplugged, you can be the first to experience the works of promising artists in our intimate Cinema stage for just $10 a ticket. There will be a talkback after each performance with the director and cast to discuss the work performed!
---
Up Next
February 10 & 11

Company Member Candace Clift performs her one woman piece, To Be
What happens when you wake up to a life that has turned upside down and nothing is what it once was? To Be is one woman's humorous, sometimes wrenching, reckoning with breast cancer, mortality and Hamlet. It is a journey of hope and desire that wrestles bravely with life's most important question.
March 2 & 3
Company Member Gregg Jones directs 26 Pebbles by Eric Ulloa
On December 14, 2012, Adam Lanza walked into Sandy Hook Elementary School and killed twenty-six innocent souls before taking his own life. These twenty-six innocent deaths, like pebbles thrown into a pond, created ripples and vibrations that were felt far beyond the initial rings. This is the story of those vibrations
April 6 & 7
Company Members Clint Thornton and Bryan Mercer direct an original piece, Quicksand
Set in timeless areas of the Central Florida swamps, Quicksand, an original piece created by Hipp Company members Bryan Mercer and Clint Thornton, is a humorous and haunting exploration of a rigorous childhood amongst ghostly allies and corporeal monsters. A hypnotic soundscape created live by the performers underscores porch-told stories that span the hilarious, heartbreaking, and surreal aspects of a young life molded by moss, alligators, and beautifully powerful water.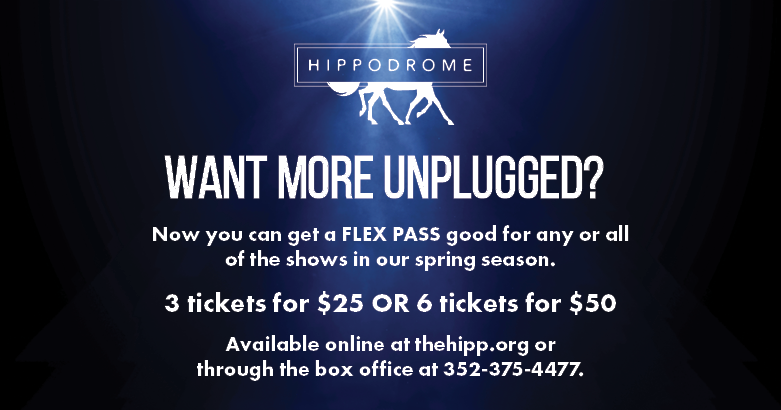 Lone Star Spirits
Written by Josh Tobiessen
Directed by Stephanie Lynge
The Hippodrome Theatre, in collaboration with freeFall Theatre presents, Lone Star Spirits. A trip home to Texas gets wildly out of hand when Marley returns to her estranged father's failing liquor store with her new fiancé. Hoping for a quick visit, she instead finds herself stranded with her football hero ex-boyfriend, an old high school chum and the ghost of the bear-wrestling pioneer who founded their town.
The Huffington Post calls it, "an abundance of humor, warmth and wisdom… Josh Tobiessen knows how to spin a surprise like a master."
A New York Times Critic's Pick, Lone Star Spirits takes a hilarious and sympathetic look at family– those who stay, those who leave and raising a glass to the ghosts of your past.
Ticket Pricing
Regular: $37.00
Senior: $25.00
Under 30: $25.00
Student: $15.00
Youth K-12: $15.00
Special Dates for Lone Star Spirits
Jan. 22 & 23 at 7 p.m.: Previews and Pay-What-You-Can
Jan. 24 at 8 p.m: Opening Night
Jan. 28 at 7 p.m: $10 Tuesday
Jan. 29 at 9 p.m: Mix & Mingle with the cast
Lone Star Spirits is on stage with seven shows a week starting January 24. Tuesdays at 7 p.m. | Wednesdays at 7 p.m. | Thursdays at 7 p.m. | Fridays at 8 p.m. |Saturdays at 2 p.m. and 8 p.m. | Sundays at 2 p.m.
Support the Hipp by supporting our sponsors!
From now through November 11, 2019, visit any – OR ALL – of our restaurant sponsors, and you can win a bundle of four tickets to opening weekend of A Christmas Carol!
When you dine at one of the amazing local business that feed our actors, cater our events, and help us fund-raise, you are not only supporting the Gainesville economy – you are keeping Gainesville Hipp!
Check out their websites below for hours and menus, and then read on to enter:
Snap a photo of your receipt from one of the restaurants above between October 4, 2019 and November 11, 2019, then click the entry button below to submit your name, email, and receipt photo. Only one entry per restaurant per day will be counted.
Winners will be selected and announced November 15, 2019. Eight (8) random names will be selected, one from each pool of restaurant submissions, to receive a pack of four (4) tickets to opening weekend of A Christmas Carol, performance dates November 30, 2019 and December 1, 2019. Tickets may not be exchanged for cash value.
A Christmas Carol is a Gainesville Holiday Tradition for over 40 years!
This season, we are producing a new version of the timeless holiday classic, commissioned just for Gainesville!
A Christmas Carol, by Niall McGinty
directed by John Gray
Nov 30 – Dec 22
Saturdays at 2 & 4 PM | Sundays at 6 PM

The Hippodrome Jazz series is back! The Hipp is proud to partner with the University of Florida School of Music to bring this hit series back to the Hippodrome Lower Level. This series will continue every Monday until December 9. Doors are at 7:00 p.m. and the music is from 7:30 p.m. to 9:30 p.m.
The Hippodrome Jazz series presents a range of jazz musicians. The full schedule of performers and links to advance tickets are below. The Hippodrome is proud to host such talented musicians to bring back Jazz and keep Gainesville Hipp!
Sept. 16- Cathy Dewitt. Get your tickets HERE
Sept. 23- Larry Newcomb and Howard Wapner. Get your tickets HERE
Sept. 30- Jacob Hardy. Get your tickets HERE
Oct. 7- Carlos Vizoso. Get your tickets HERE
Oct. 14- Bill Fote and Scott Wilson. Get your tickets HERE
Oct. 21- Giselle San Filippo and Kayton Lane. Get your tickets HERE
Oct. 28- Longineu Parsons and Zac Chester. Get your tickets HERE
Nov. 4- Jose Valentino and Robert Acevedo. Get your tickets HERE
Nov. 11- Ethan Nguyen and Peter McCann. Get your tickets HERE
Nov. 18- David Havens. Get your tickets HERE
Nov. 25- Brian Stevens and Paul Johnson. Get your tickets HERE
Dec. 2- Dan Stepp. Get your tickets HERE
Dec. 9- Mindwalk. Get your tickets HERE
Tickets are just $5 and are available in advance online at thehipp.org, at the Hipp Box Office or at the door.
For more info, call 352.375.4477.

What if an entire community read the same book at the same time?

The Hippodrome Theatre and their partners hope to answer that question later this month through their One City One Story program.

"One City One Story is a great program that fits right into the mission of the Hipp," said Stephanie Lynge, Hippodrome Artistic Director. "One City One Story allows us to bring our storytelling off the main stage and look at it from more perspectives in collaboration with the community."

Starting with an open-mic night at the Hipp on August 22 and continuing with events through September, One City One Story aims to bring the community together through thought-provoking discussion of "The Curious Incident of the Dog in the Night-Time." The book, by Mark Haddon, has since been developed into a Tony Award-winning play by Simon Stephens; the Hipp and the UF School of Theater and Dance will partner on a production of the play that opens on August 30.
This year's story revolves around Christopher, a young man whose unique characteristics, which resemble Autism Spectrum Disorder, shape the plot of "Curious Incident."

"'The Curious Incident of the Dog in the Night-Time' is the perfect play for One City One Story and for our upcoming season, Breaking Boundaries," Lynge said. "Through Christopher, we get to experience life through the eyes of someone who processes and experiences the world differently than many of us."
This year, those new ideas will center on Christopher's unique condition and themes like individuality that are presented in "Curious Incident."
The Hippodrome will be collaborating with other Gainesville organizations including UF's Center for Autism and Related Disabilities, the Alachua County Library System, and UF's student theatre company, Florida Players.

On top of the Hipp's theatrical production, One City One Story will also include a lecture series, UF-partnered panels, an informal book club, a stage reading presentation and more. All events will be free and open to the public.
One City One Story Events:
Open Mic Night: Individuality & Identity
Thursday, Aug. 22 at 8 p.m.
At the Hipp Lower Level
Alachua County Library Book Club
Sunday, Aug. 25 at 5:30 p.m.
At the Hipp Lower Level
Unique: A New Theatrical Performance
Created and performed by local middle and high school students
Monday, Aug. 26 at 4:30 p.m.
At Alachua County Headquarters Library
New Stage Play Reading: "Milligrams" by Laura Chiarello
Presented by UF's Florida Players
Sunday, Sept. 8 at 7 p.m.
At the Hipp Lower Level
Led Panel Discussion with Director Dr. Ralf Remshardt & UF's CARD Center for Autism
Saturday, Aug. 31 & Saturday, Sept. 14
Immediately following matinee performance on the Hipp Mainstage