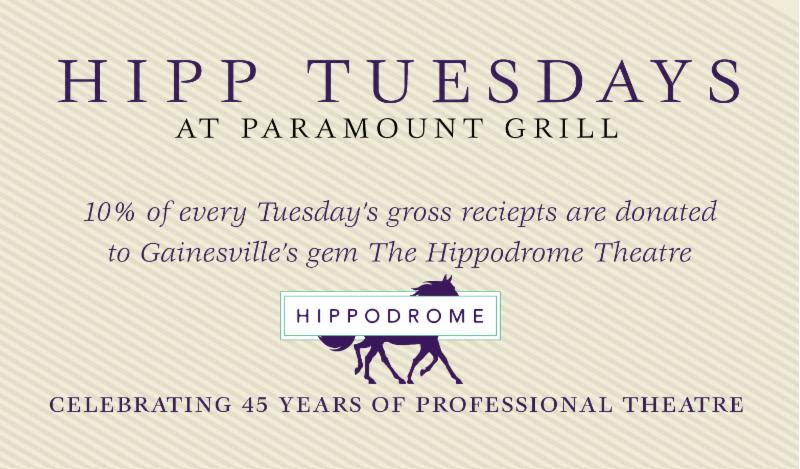 The Paramount Grill announces the launch of "HIPP TUESDAYS" in response to the Hippodrome Theatre's state funding cuts.
Chef and Owner of the Paramount Grill, Clif Nelson announced that the Paramount will donate 10% of gross receipts from all Tuesday sales to the Hippodrome Theatre starting on July 17 and extending for one year.
Mr. Nelson said,"I was shocked when I first heard the news that the Hippodrome's state funding had been so drastically cut. I knew I needed to find a way to help."
Starting on Tuesday, July 17, 10% of gross receipts from both lunch and dinner service at the Paramount Grill will be donated to the Hippodrome. In return, customers who dine at Paramount on "HIPP TUESDAYS" can bring their receipt to the Hippodrome box office and receive a customized notebook with a beautiful Hippodrome painting by Margaret Tolbert.
For over 30 years Clif Nelson, Chef/Owner of Paramount Grill, has been serving unique and innovative cuisine in Gainesville. The Paramount Grill opened in August 2001 and serves fresh, inventive cuisine, coupled with a relaxed, unpretentious atmosphere in the heart of downtown Gainesville.
Over the past 45 years, the Hippodrome has been steadfast in its commitment to inclusion, diversity and acceptance. Exploring shared humanity and tackling tough questions through the arts has been at the core of its mission, and  it has never been more important than now.