Gainesville's Only Art-House Cinema
The Hipp Cinema is always screening movies with our audience in mind. Serving as Gainesville's only art-house cinema, we bring the latest independent films, hard-hitting documentaries, critically-acclaimed world cinema, throwback classics, and additional signature programming throughout the year. Have your experience at the movies go beyond the purchase of a ticket stub.
Find out show times and purchase tickets for upcoming screenings and special events
Never miss a movie or show or renovation update:
Sign up for the Cinema Newsletter
Follow Hippodrome Cinema on Facebook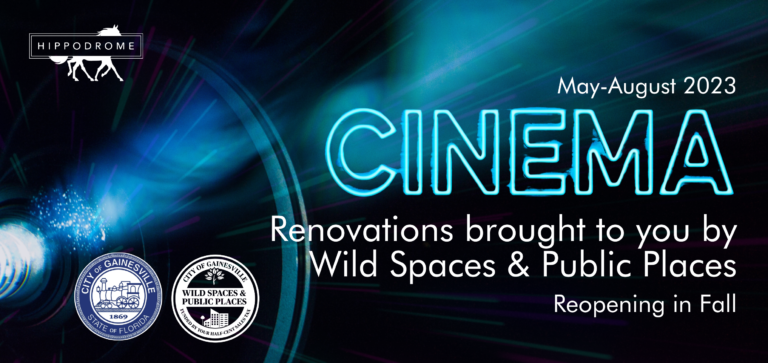 Exciting things happening at the Cinema!
Exciting news for movie-goers and theater enthusiasts alike!
The Hippodrome Theatre's cinema will be temporarily closed starting May 1st for extensive renovations, courtesy of the  Wild Spaces & Public Places half cent sales tax. The theater will be outfitted with brand-new seating, state-of-the-art lighting and audio equipment, and other exciting upgrades that are sure to enhance your viewing experience. Also part of this renovation are updating and refurbishing our first floor bathrooms. 
With a grand reopening planned for later in August/September, you won't want to miss out on the chance to see the latest movies, host your own viewing parties, and experience unforgettable theatrical spectacles in this newly revamped space.
To stay up-to-date on all the latest news, follow along with the renovations and the grand opening date, be sure to sign up for the cinema newsletter, and follow the Cinema on Facebook.
The Hippodrome Theatre's cinema is sure to become a hot spot for movie lovers and theater enthusiasts alike, so don't miss out on the excitement!
Learn more about the improvements by Wild Spaces & Public Places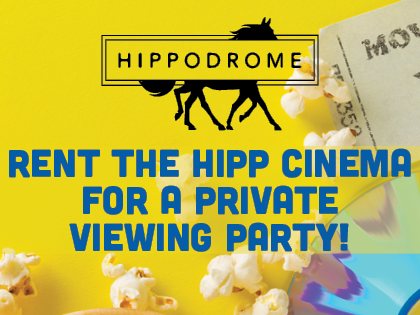 Whether it is to view your favorite film or to have a private screening of a show you and your friends/family watch, we got you covered!
Please contact Gabrielle for any questions or to book a private viewing party for you and your pod.