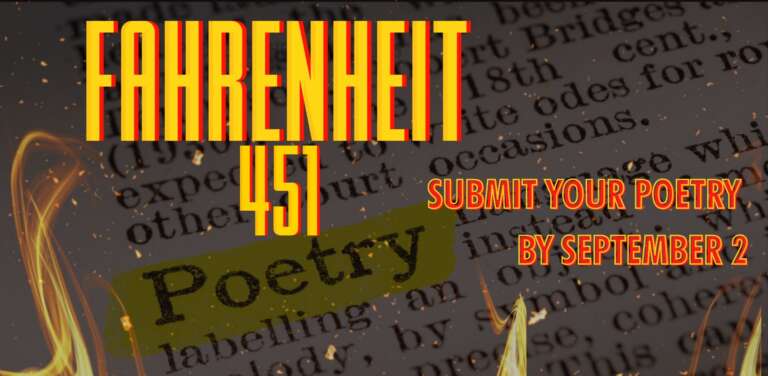 In celebration of our 50th season production of Fahrenheit 451, we are opening poetry submissions from poets of all ages and experience-levels to be posted in our public spaces and website! This is your opportunity to share your work with our audiences and be a part of your artistic community!
Submission guidelines:
We are asking for works that speak to the themes of Fahrenheit 451, its characters, and how you connect this story to our modern society.

We will only be allowing poets from Alachua and its surrounding counties to submit.

All poets will be able to submit up to two poems, up to one page in length each.

Physical space in the Hippodrome is limited. Once we are near the limit of poems able to be printed out and posted in our public spaces, we will post a notice of the nearing limit. Once that limit has been reached, we will be removing this option on the form. The available space is variable depending on the amount and length of submissions.

Submission deadline is September 2, 2022
Those 18 or older are invited to join us at our "Don't Read Fahrenheit 451" Book Club on Friday, September 9th at 6 pm in the Hippodrome lower level and bar to discuss the novel and have your poem read, time permitting. – Learn more about the Book Club HERE
Please note:
The Hippodrome will not be rewarding any submissions.

The Hippodrome will not be providing feedback.

We reserve the right to not post any material that includes hate speech, defined as expressions regarded as offensive and/or negative in relation to characteristics such as disability, race, religion, and sexual/gender identity.