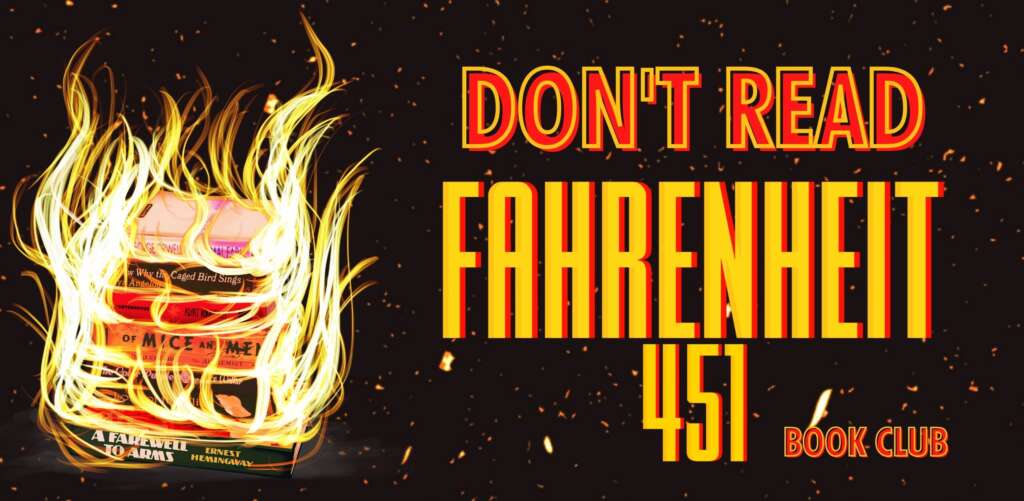 Friday, September 9th at 6 pm @ the Hipp
Ray Bradbury's 1953 dystopian novel Fahrenheit 451 has inspired generations to question the society we live in and strive to seek out knowledge, our greatest power. Today, it has inspired the Hippodrome to lead the city of Gainesville in a city-wide book club to go along with our 50th season production of the stage adaptation!
Please join us in reading this classic tale and come discuss your connection to its deeper themes and messages with us at our book club meeting on Friday, September 9th, at 6 pm! This meeting will be held in the Hippodrome Theatre's lower level and bar, just before our 8 PM performance of Fahrenheit 451 on our mainstage. Our cash bar will be open to those 21 or older! We encourage book club goers to view our mainstage show on this date, but no ticket purchase is necessary to participate.
We will also be reading aloud poems by book club goers during the meeting as a part of our Fahrenheit 451 poetry submission, time permitting. This submission closes on September 2nd, the opening night of Fahrenheit 451!
Download Fahrenheit 451 now
The Alachua County Library District has made the Fahrenheit 451 available free of charge to all Alachua, Levy or Putnam county residents. Download your book here: Fahrenheit 451 – Alachua County Library District – OverDrive
When you click on the Borrow button you will be asked to enter your library card number (no spaces, just the digits) and the PIN/password (default is four-digit birth year: YYYY).   Please note that to access ACLD electronic materials you must live in Alachua, Levy or Putnam County.  If you wish to listen on a device you will need to download the free Libby app. 
Don't have a library card? Get one here