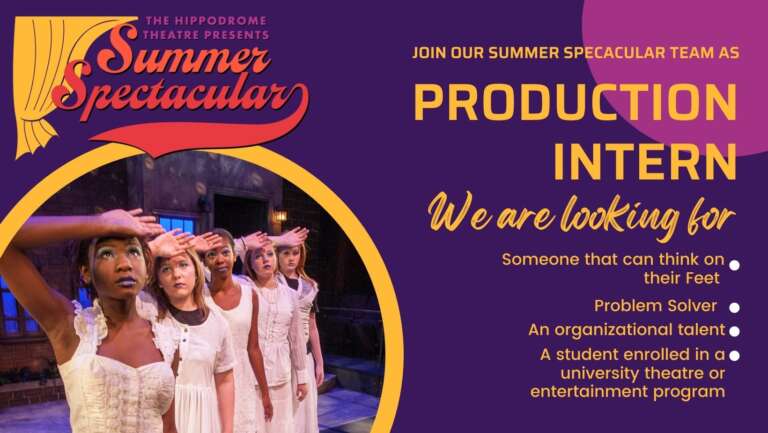 Celebrating our 49th season, The Hippodrome Theatre, a professional theatre company in Gainesville Florida, seeks a self-motivated, highly organized and experienced individual to serve as
for our Summer Spectacular Theatre Camp productions. 
This Internship works with all the production departments and primarily serves as light and sound board op and run crew on all Summer Camp Productions
This internship is designed to give on the job training, provide a well-rounded, hands on experience working with our master electrician, sound designer, technical director, costume designer, and other scenic and technical professionals to provide an understanding of team work and how each production department affects the final output of a project.
Work alongside seasoned professionals, adhere to directions, timelines, tasks, and additional responsibilities as needed in all areas of production. Help staff professionals perform general maintenance of sound, projection, lighting, and scenic equipment associated with the Summer Camp Productions.
Qualifications Education and/or Work Experience Requirements:
Qualified applicants should be currently enrolled in a university theatre or entertainment program, have a basic knowledge of QLab, ETC, Clearcom, etc., have some experience in electrics, sound, scene shop.
Knowledge, Skills and Abilities:
Valid driver's license and personal vehicle preferred

Ability to multitask

Leadership experience
Excellent written and verbal communication skills

Excellent organizational skills

Flexibility, positive attitude, and a willingness to commit to long hours, hard work, and a demanding schedule
Great sense of urgency and ability to think on your feet
Ability to work in a fast paced, high energy artistic environment
Ability to work collaboratively with different personality types
Capable of working independently
Housing with utilities and internet provided.
Stipend is $250 per week
Starting date: June 1, 2022
Ending date: July 29, 2022
The Hippodrome Theatre requires all employees to be fully vaccinated against COVID-19, and follows Actor's Equity Association's protocols regarding weekly COVID testing and mask wearing.
The Hippodrome is committed to Inclusivity, Diversity, Equity, and Access. We welcome and encourage people from all backgrounds to participate in every facet of our organization, as having a multitude of diverse voices expands and enhances the work we do. We continually work hard to ensure that our workforce reflect our dedication to social and racial equality. As a united staff and board, we promise to promote an environment that is truly equitable as an ongoing and intentional process of self-examination, accountability and action.