The Hippodrome Theatre proudly presents its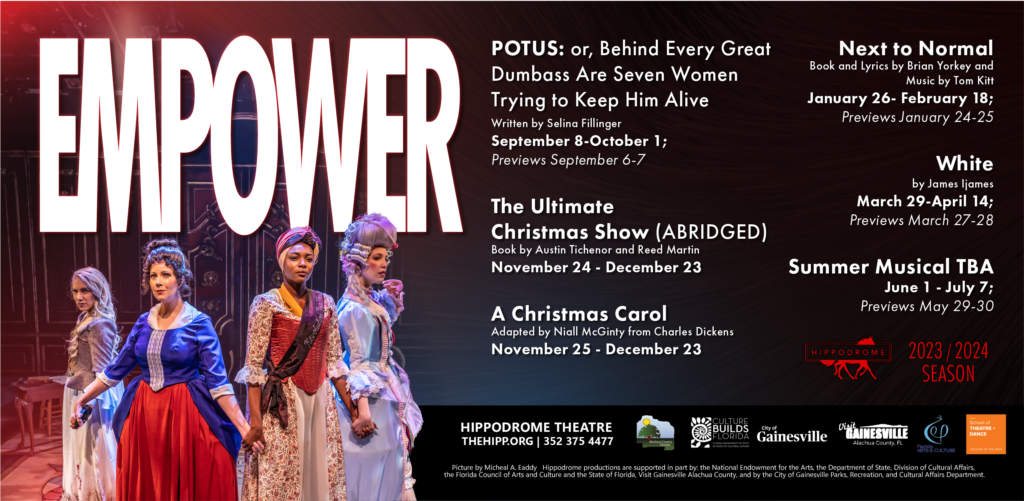 The Hippodrome Theatre's 51st season EMPOWER delivers a powerful lineup of stories showcasing strength, perseverance, and empowerment, including the brilliant, foul-mouthed women trying to save the world in  "POTUS: or, Behind Every Great Dumbass Are Seven Women Trying to Keep Him Alive",  the guys holding the holiday together through teamwork in the return of  "The Ultimate Christmas Show (ABRIDGED)". Scrooge finds his heart in our holiday tradition "A Christmas Carol", a family struggles through the complexities of mental health in the Tony Award-winning musical "Next to Normal", and two artists challenge societal norms in the modern comedy "White". And as always, stay tuned for our summer musical announcement, which promises to be an exciting addition to an already incredible lineup.
The 51st Seasons promises unforgettable theatrical experiences that celebrate the triumphs and struggles of the human spirit – get your tickets and renew your subscriptions now!
Or, Behind Every Great Dumbass Are Seven Women Trying to Keep Him Alive
Written by Selina Fillinger
September 8-October 1; Previews September 6-7
POTUS is a foul-mouthed political funhouse farce. Roar with laughter as seven brilliant and beleaguered women panic, problem-solve, and ultimately, persevere to save the President from himself.
The Ultimate Christmas Show
Book by Austin Tichenor and Reed Martin
November 24 - December 23
This audience favorite is back! The Ultimate Christmas Show (abridged) bursts with festive, slapstick fun as these cheerful comedians celebrate all of our favorite holiday traditions—at the same time.
Adapted by Niall McGinty from Charles Dickens
November 25 - December 23
"A Christmas Carol" is a beloved Gainesville holiday tradition featuring singing and storytelling people of all ages will enjoy. Join us as we celebrate Scrooge's redemption through dance, laughter, and heartfelt songs, and become part of this cherished annual family and community event. 
Book and Lyrics by Brian Yorkey Music by Tom Kitt and
January 26- February 18; Previews January 24-25
Get ready for an emotional rollercoaster ride with "Next to Normal", the groundbreaking Tony Award-winning musical that explores the highs and lows of a modern-day family struggling with mental illness. With an electrifying rock score and heart-wrenching lyrics, this Tony Award-winning show will leave you on the edge of your seat from start to finish.
March 29-April 14; Previews March 27-28
When a major museum seeks to showcase diverse voices in its next exhibition, Gus, an artist, enlists Vanessa's help to create an audacious new artistic persona of color to get him in the show.  From there it all spins out of control in this modern comedy, exploring white privilege, racial politics and the fine line between appropriation and opportunity.
May 31-July 7; Previews May 29-30
Whether it's The Great American Trailer Park Musical, Avenue Q, or Million Dollar Quartet, our famous musicals are the most entertaining thing you can do in Gainesville every summer, and 2024 will be no exception. Stay tuned for our exciting title announcement coming soon.