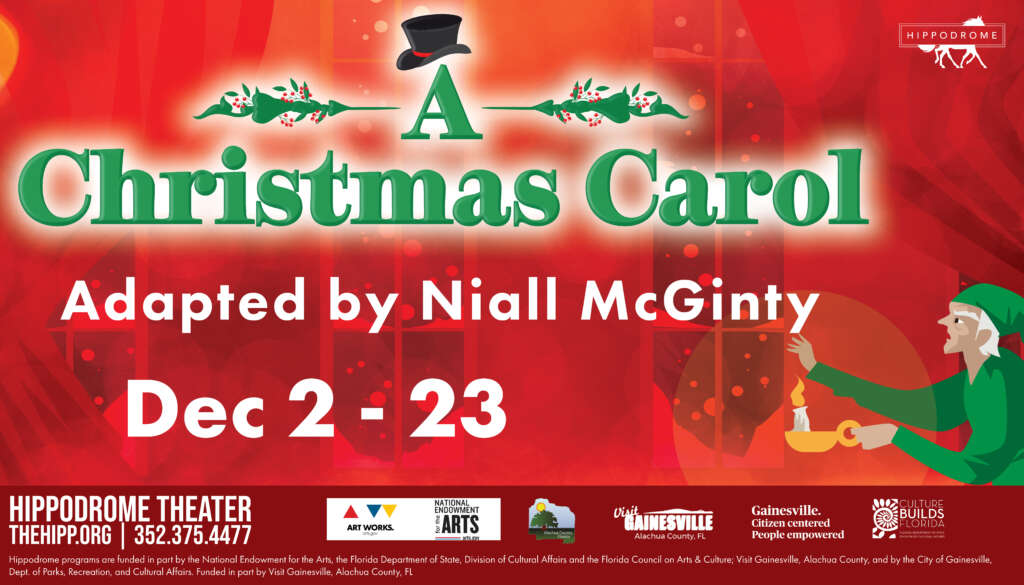 Adapted by Niall McGinty from Charles Dickens' novel
Dec 2 – Dec 23
Back on the mainstage after its debut in 2019, the Hippodrome's very own adaptation of A  Christmas Carol returns.  We join a troupe of veritable Victorian actors as they weave the web of this cherished holiday tale. Ebenezer Scrooge is a selfish businessman who is taught a lesson by the ghosts of Christmas Past, Present, and Future to become a better man and friend. Hippodrome Company Member Niall McGinty has adapted this holiday classic into a Gainesville tradition of singing and storytelling for over 40 years that all ages will enjoy!


The Hipp has heard your requests, and we will be producing 14 public performances this year!
A Christmas Carol is live on stage December 2nd through December 23rd.
Public performances on:
Saturdays at 12 p.m. & 3 p.m. | Sundays at 7 p.m.
Extra shows on:
Monday Dec 20 at 2 p.m. & 5 p.m. |Tuesday Dec 21st at 2 p.m. | Wednesday Dec 22 at 7 p.m. | Thursday Dec 23rd at 2 p.m.