Truly missed, but never forgotten
Doctor "Doc" David Shelton, 81, passed away peacefully on Jan. 13, 2022. A Boonville native, David was born on Feb. 7, 1940. 
He graduated from Boonville High School then earned his bachelor's degree from Evansville College where Sam Smiley was his mentor who encouraged his love of theater. He continued to the University of Georgia where he taught and earned his master's in theater. Afterwards, he obtained his PhD from the University of Missouri. David went on to teach theater at the University of Florida in Gainesville for 33 years. He loved warm weather, Florida, and Gator football. He gloried in his students' accomplishments and appreciated their lifelong friendships, as well as that of his colleagues. David enjoyed acting in countless theater productions and even appeared on the big screen and directed at the Hippodrome Theatre. After his retirement, he returned to Boonville.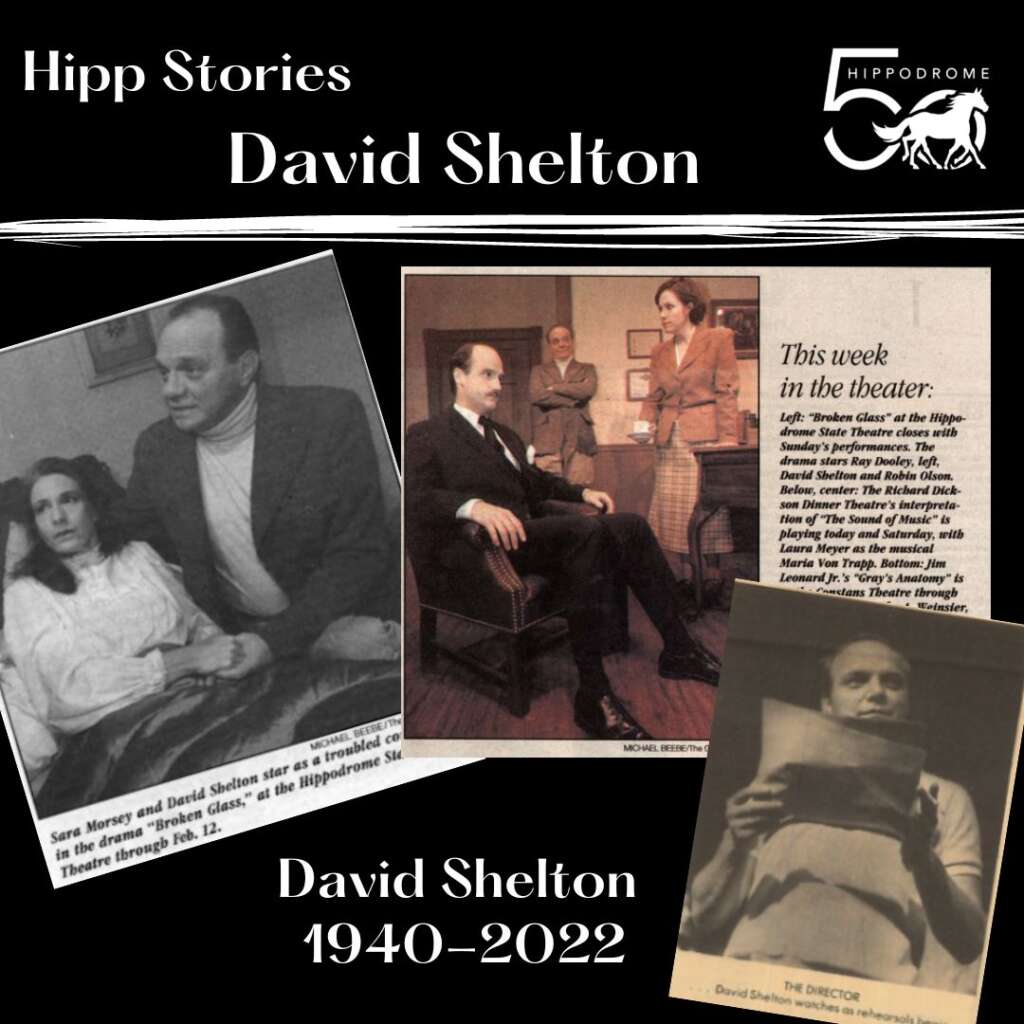 "He was one of a kind. When in grad school, David was tough on his students. At times, we thought he was too rough. But at the time, we did not realize that he was pushing us to be the best that we could be. Grateful for his tough love and believing that there was always more inside of us."
Lauren Caldwell, Artistic Director
I had the pleasure of directing David several times and the immense pleasure of acting across from him in a production of CURSE OF THE STARVING CLASS by Sam Shepard. He was absolutely fearless as an actor. You might even say dangerous in his outrageous and beautiful choices. A true study in acting by just being in his presence.  
One of the most touching memories I have of David was his portrayal of the Stage Manager in a production of OUR TOWN. The play really crawled under his skin. There were times in rehearsal that he got choked up and had to just stop. Tears streaming down his face as he lived fully inside his character. This self proclaimed gruff man shared his immense humanity with us in this process. Needless to say, his performance was a tour de force.
In later years after I graduated, David and I became very close to one another. He remained my mentor and morphed into one of the best friends I have ever had in my lifetime. He supported me without reservation and encouraged me in many aspects of my life. One day he said, I love you to me. And he did. Unconditionally. I shall never forget the first time I heard those words. 
He is still with me everyday and on every project. "