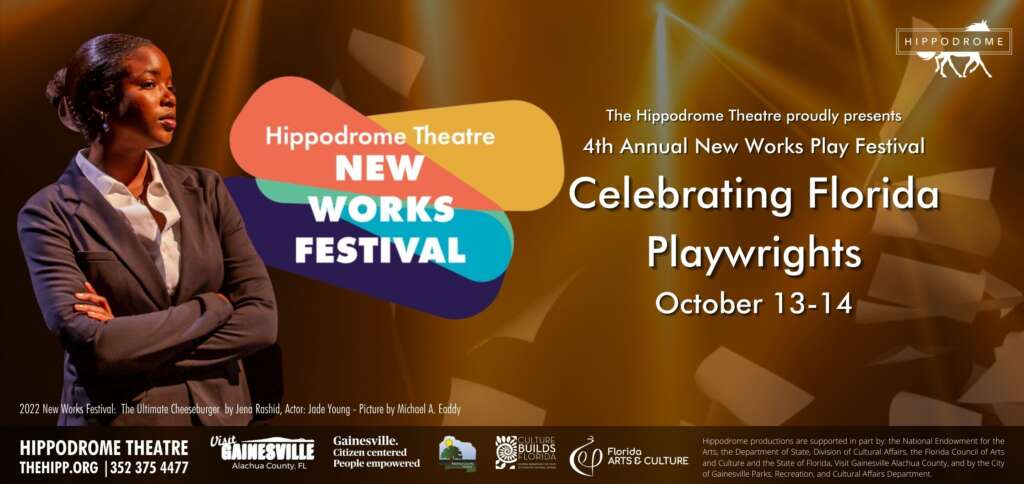 The Hippodrome Theatre's proudly presents its
Fourth Annual New Works Festival
Started in 2020, The Hippodrome Theatre's annual New Works Festival was created to support narrative voices through the development and exploration of plays in traditional and experimental formats representing the diverse landscape of artists in Florida and their stories which reveal the American experience based on the kaleidoscope of identity. We support innovative, experimental or thought provoking material, formats, and styles.
Calling Florida Playwrights!
The Hippodrome Theatre supports established as well as new and emerging talent and is accepting submissions for its fourth New Works festival!
Submissions must be received by
Winners will be announced September 1, 2023!
Development, rehearsals, and performances will run from October 8 – Oct 14, 2023.
Chosen playwrights spend one week in residence with a professional producer, director, and Equity or Equity-eligible actors.
Chosen plays receive a $300 prize and a 4–flex pass for the 2023-2024 season (non-transferable)
Open to playwrights of all ages, but must reside in and be a resident of Florida.
Plays must be full length; no less than 70 pages in length and have no more than 5 characters.
Writers may submit up to two plays.
For questions please contact Hippplayfest@gmail.com  
Pictures by Michael A. Eaddy (New Works Festival 2022)
Meet the Behind the Scenes Team