The Hippodrome Theatre's proudly presents its
Third Annual New Works Festival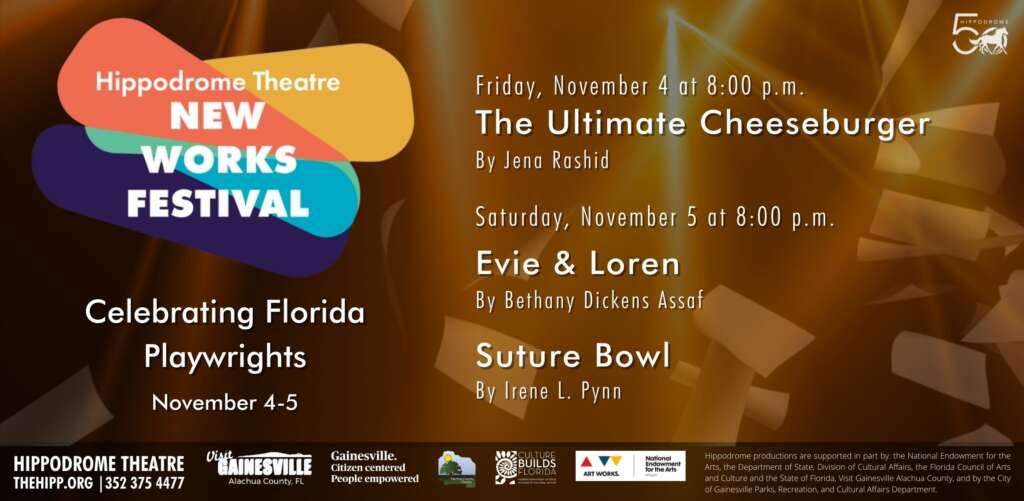 Started in 2020, The Hippodrome Theatre's annual New Works Festival was created to support narrative voices through the development and exploration of plays in traditional and experimental formats representing the diverse landscape of artists in Florida and their stories which reveal the American experience based on the kaleidoscope of identity. We support innovative, experimental or thought provoking material, formats, and styles.
This year 3 finalists have been chosen from 45 playwright submissions. The playwrights will work with directors, actors and producers to develop and workshop their plays before showcasing them in staged readings in front of a live audience.
Experience groundbreaking new works while participating in the creative process by sharing your reactions directly with the playwright and the production team at a post-show talkback.
Friday, November 4 at 8:00 p.m.
The Ultimate Cheeseburger
We've all been there: the district manager comes in and talks about how everyone in your job is a "family" and that you're all a "team" who need to work together, right? Well, things are no different at Chicken & Roots, Co. where everyone is just trying to make ends meet like most of working America. But what happens when one person is finally pushed too far?
Saturday, November 5 at 8:00 p.m.
Two plays together on one night
Evie and Loren look like a perfect match when they find each other on Tinder – except she's his former mother-in-law. Over the course of a date, Evie and Loren learn a lot – maybe too much? – about each other before realizing they might be heading towards something dangerous.
Lights, Camera, Action!  Welcome to Suture Bowl! Join top surgeons as they face off in the final episode of the highest-rated reality series ever, battling it out in a gameshow with higher stakes than they ever imagined.  Only one will survive –  I mean, win!
Tickets and Festival Passes
Passes for all 3 performances:
$30 Regular
$24 Student/Senior 
Tickets
$20 Regular
$15 Student/Senior