The Hippodrome Theatre's proudly presents its
Fourth Annual New Works Festival
Since its inception in 2020, The Hippodrome Theatre's annual New Works Festival has been a beacon for narrative voices in Florida, nurturing the development of plays in both traditional and experimental forms. This festival serves as a vibrant mosaic, reflecting the rich tapestry of artists in Florida and their compelling stories, which offer a unique perspective on the American experience.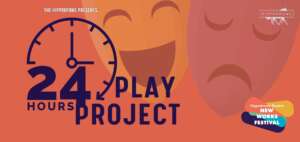 The year's New Works Festival is being expanded by inviting local playwrights, actors, directors, and designers to participate in a 24-Hour Play Project! Learn more here
The festival champions innovation, embracing audacious and thought-provoking content, formats, and styles. This year's lineup features two captivating plays:
Marian lives in the sleepy town of Spring Hill, Florida where she spends her days hanging out at the senior citizen center and drinking wine with her best friend Fran. After her estranged granddaughter has a crisis of faith and moves in with her, marvelous things begin to happen. A play about death, faith, and learning to float through Jello.
Friday, October 13 at 7:30 pm
Jay and Meghan both agree: 'Slaymaker' is the badassest surname for anyone ever – especially a Magic The Gathering champion (or a champion in the making). But if Meghan is divorcing Jay and writing whiny articles about how tough it is to be a girl in Magic, then is she really entitled to keep using it? Legalities aside, the two decide to resolve their differences through a Magic tournament. If she wins, Meghan gets to keep 'Slaymaker.' But if Jay beats her…will anything ever change?
Saturday, October 14 at 7:30 pm
Tickets and Festival Passes
Passes for all 2 performances:
$30 Regular
$24 Student/Senior 
Tickets
$20 Regular
$15 Student/Senior 
Pictures by Michael A. Eaddy (New Works Festival 2022)
Meet the Behind the Scenes Team
Congratulation to our Semi-Finalists!
Dear Yellow, Love Red by Jessie Dorsey
The Moral Waiver by Douglas Gearhart
At The End of the Hall by Luis Roberto Herrera
Born Still by Luis Roberto Herrera
The Lion Tamer by Ivan R. Lopez
Lunge by Danielle Wirsansky