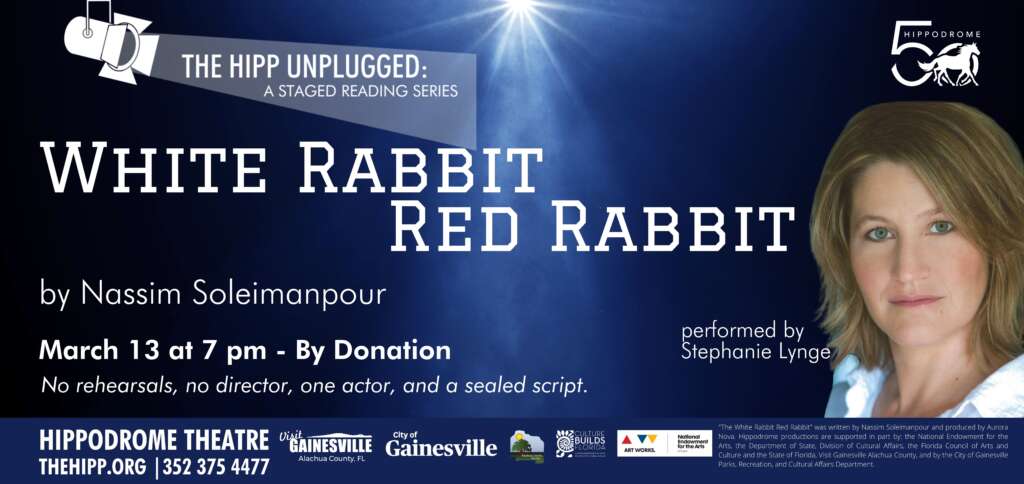 by Nassim Soleimanpour and produced by Aurora Nova
Monday, March 13, 2023 at 7 pm
In March 2020, most theatres closed their doors due to the pandemic. In order to celebrate the resiliency of live theatre in the time that followed, theatres around the world come together to perform "White Rabbit, Red Rabbit" on 13th of March!
Will you participate? Will you be manipulated? Will you listen? Will you really listen?
With no rehearsals, no director, one actor, and a script waiting in a sealed envelope on stage, the internationally acclaimed White Rabbit Red Rabbit, by Iranian writer Nassim Soleimanpour, is an audacious theatrical experiment and a potent reminder of the transgressive and transformative power of theatre.
Forbidden to leave his native Iran, Soleimanpour wrote a play which travelled the world in his place. The audience joins the actor on a journey into the unknown; stumbling upon the personal and profound, the limits of liberty, and ultimately where theatre can take you.
Since its joint premiere in 2011, the play has been translated into over 25 different languages and has been performed over 1000 times by some of the biggest names in theatre and film, including actors Whoopi Goldberg, Nathan Lane, John Hurt, Simon McBurney, Stephen Fry, Sinead Cusack, Marcus Brigstocke and Ken Loach.
Monday, March 13, 2023 at 7 pm
Recommended for audiences 12+ (at the discretion of the presenter)
Note: This play is NOT overtly political, and should not be portrayed as such. It operates on a deeper, metaphoric level, and very expressly avoids overt political comment. All media and press agents have to keep in mind that the playwright is an Iranian native. We therefore ask the press to be judicious in their reportage.
"A stunning piece of theatre, thought-provoking and morally unsettling." Fringereview
"Nassim Soleimanpour is a fiercely – even frighteningly – original voice, and a thrillingly adept craftsman… Go see!" The Skinny
"Wildly unpredictable and completely unforgettable, White Rabbit Red Rabbit is a punch in the air for self-expression; a testament to the power of words to transcend cultures and borders. You have to be there." New Zealand Herald
Awards:
Dublin Fringe Festival Best New Performance 2012
Summerworks Outstanding New Performance Text Award 2011
The Arches Brick Award, Edinburgh Festival Fringe 2011
About Nassim Soleimanpour
Nassim Soleimanpour is an independent multidisciplinary theatremaker from Tehran, Iran. His plays have been translated into 20 languages. Best known for his play White Rabbit Red Rabbit, written to travel the world when he couldn't, his work has been awarded the Dublin Fringe Festival Best New Performance, Summerworks Outstanding New Performance Text Award and The Arches Brick Award (Edinburgh Fringe) as well as picking up nominations for a Total Theatre and Brighton Fringe Pick of Edinburgh Award.
By the time Nassim was permitted to travel for the first time in early 2013, his play White Rabbit Red Rabbit had been performed over 1000 times in 20 languages. Since then Nassim has facilitated workshops and panels in different countries including World Theatre Festival (Brisbane), Tolhuistuin (Amsterdam), SESC Vila Mariana (Sao Paulo), Schauspielhaus (Vienna), DPAC (Kuala Lampur), Theatertreffen (Berlin), British Council (London), Asia House (London) and University of Bremen (Germany).
Nassim's second play Blind Hamlet for the London based Actors Touring Company premiered at the 2014 Edinburgh Festival Fringe and has since toured extensively around the UK and was received well in Bucharest and Copenhagen. His third play BLANK premiered in November 2015 at Dancing on the Edge Festival in Amsterdam and Utrecht followed by performances at Radar Festival in London.
2017 saw the premiere of Nassim's latest play, the eponymously titled NASSIM which features the playwright himself on stage. Co-produced by the Bush Theatre in London, the play premiered at the Edinburgh Festival Fringe to great acclaim, winning the prestigious Scotsman Fringe First Award. Nassim now lives in Berlin with his wife Shirin and dog Echo, and tours the world with NASSIM while working on new material for the stage.