2010 Pulitzer Prize Finalist for Drama
The Elaborate Entrance of Chad Deity
by Kristoffer Diaz
Directed by Alberto Bonilla
Opening January 27, 2023
Think pro-wrestling is all outrageous masks and pyrotechnics? Think again – there's so much more in this fresh, funny, high-octane Pulitzer Prize finalist that transforms The Hippodrome Theatre into an arena. The Elaborate Entrance of Chad Deity slams together thrilling spectacle, incredible characters, and geopolitical allegory into an invigorating theatrical experience you can't find on pay-per-view. In wrestling, as in life, behind every winner lies the story of a really excellent loser.
Playwright Diaz's smart, comic look at pro wrestling and geopolitics is a theatrical smackdown of dazzling language presented with a fresh, funny, high-octane flair raising pertinent questions about racial identity and pop culture in our society. 
Winner of the 2011 Obie Award for Best New American Play and 2008 National Latino Playwriting Award
2010 Pulitzer Prize Finalist for Drama  
"Delightful physicality and freewheeling theatricality!" – Washington Post
"Thrilling entry into the brave new world of bright lights, racial complexities and hot new plays." -The Chicago Tribune
"Even if the world of professional wrestling is not your cup of tea — or should I say can of beer…you'll find yourself engaged by this 4th wall busting production." – MD Theatre Guide  
The Elaborate Entrance of Chad Deity
On Mainstage January 27-February 12
Previews: January 25-26 at 7:00 pm
Opening Night: Friday, January 27, 2023 at 8:00 p.m.
Wednesdays at 7 p.m. | Thursdays at 7 p.m. | Fridays at 8 p.m.
Saturdays at 2:00 p.m. and 8 p.m. | Sundays at 2 p.m.
Special Dates and Events for The Elaborate Entrance of Chad Deity
Talkback with Actors: Sunday, February 5  after the 2 p.m. show
Content Advisory: 
Strong Language and Mild Adult Themes. Parental Guidance is suggested.
This show uses strobes, subwoofers under the seats, haze, bright/flashing lights, and fog.
"The Elaborate Entrance of 
Chad
Deity
" is presented by arrangement with Concord Theatricals on behalf of Samuel French, Inc. 
www.concordtheatricals.com
Produced by Second Stage Theatre, New York 2010
Carole Rothman, Artistic Director
World Premiere Produced by Victory Gardens Theater, Chicago, Illinois
Dennis Zacek, Artistic Director / Jan Kallish Executive Director in association with Teatro Vista
The Elaborate Entrance of Chad Deity in the News
The making of The Elaborate Entrance of Chad Deity
The Elaborate Entrance of Chad Diety will have REAL wrestling and a ring!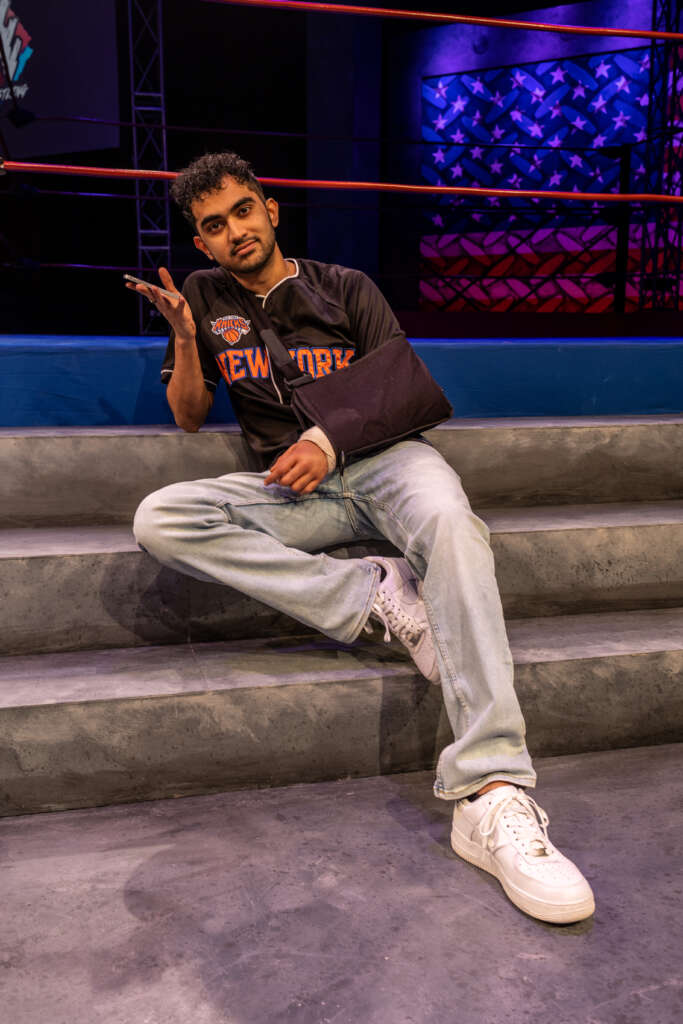 Why is Rahul Joshi (playing VP) wearing a sling?
During the second week of rehearsal, Rahul slipped and broke his arm. Our actors are performing some real wrestling moves during this show and after a no-contact kick Rahual lost his balance and he fell on his arm. 
The cast has been working with Wrestling Choreographer and Professional Wrestler Leon Scott to not only make the moves look real but to ensure the safety of all. Even with all pre-caution at the end of the day it is LIVE theatre and things happen. 
After several discussions with Rahul, his medical team, the choreographer, and director we agreed that the show must go on and we are happy that Rahul Joshi will remain in the cast. 
Now break a leg! (No please don't) 
Picture by Michael A. Eaddy
Read more: Wrestling play 'The Elaborate Entrance of Chad Deity' to debut at The Hippodrome – Rahul Joshi overcomes injury for wrestling-based play by Lauren Whiddon – January 25, 2023 The Independent Florida Alligator
Pictures and video by Alberto Bonilla
Director Alberto Bonilla watches the first wrestling session with the actors and experiments with the camera. 
Thank you to Marcelo Garcia Jiu-Jitsu Academy of Gainesville for letting us use the space and making sure none of us get hurt!