Previous Gallery Exhibits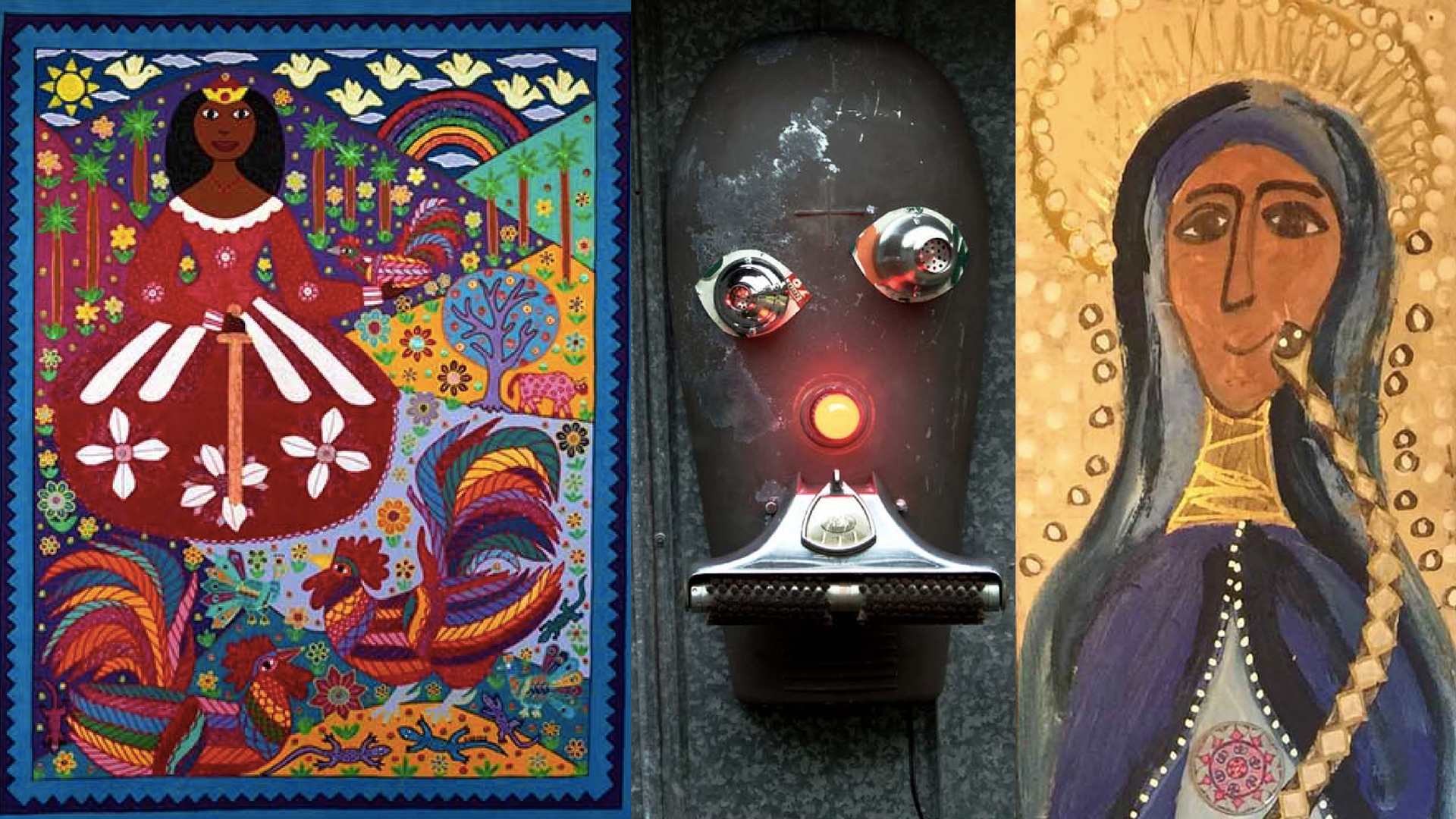 The 2018 Folk and Art-in-the-Style-of-Folk Art exhibit features work of local Gainesville community artists. Come out to the Hipp Art Gallery for Art Walk on April 27 from 7-10 p.m. to enjoy a glass of wine and check out these unique pieces.
The Gallery presents 103 pieces of art contributed by 42 artists on the walls of The Gallery Oak Hammock and the Hippodrome Theatre.
During the opening reception on April 15, two curators at the Harn Museum of Art presented awards to 11 artists. Our own Sara Morsey received Judge's Choice for "Shrine Mary," Bill Paine for lighting design, and Nancy Reyes received Best-in-Show.
You can see their work at the Hippodrome Theatre Art Gallery and Oak Hammock between now and July 16, 2018.
________________________________________________________________________________________________

The Hippodrome Theatre proudly presents Sherrie Pettigrew's Artwork
Opening Feb. 28 with "Ripcord" previews & featured for Art Walk on Friday, March 30, 7 to 10 p.m.
GAINESVILLE – Sherrie Pettigrew's art exhibit will be featured in the Hippodrome Art Gallery for the next Artwalk Gainesville on Friday, March 30, from 7 – 10 p.m., opening the week before the first preview of "Ripcord" at the Hippodrome Theatre.
Pettigrew is a Florida artist who composes her drawings based on the people and objects around her in everyday life.  Graphite powder and pencil are her primary materials, and she sometimes incorporates paint, pastel chalk and found objects.
"These images come to me in the shower, theater, market, and street complete with smells, sounds, and visions seldom shared until they are actualized," Pettigrew said.
Pettigrew admires artists Chuck Close, Joan Miro and Cy Twombly, and they inspire her artistic style. She describes her collection as an evolution from hyperrealism to psychological surrealism.
"I come from honesty in my approach, making work that isn't always pretty," Pettigrew said. "These pieces are about emotion, often without cognitive consideration: recording reality with a twist and my own hypersensitive view."
We hope to see you there!
– Your friends at the Hipp
________________________________________________________________________________________________
RESIST AND RISE: The Art of Protest
Centered on contemporary issues relating to health care, the environment, privacy, education, poverty, racism and peace
​,​ this exhibit  aims to push boundaries and creat​e 
social change through an eclectic mixed media exhibit of curated and original protest art.
 ​A wide variety of artwork will be displayed, including signs, paintings, sculpture, bumper stickers, political buttons, T-shirts and personal memorabilia from across cultures and time periods.
"RESIST AND RISE: The Art of Protest" is ​
at the Hippodrome Art Gallery in conjunction with George Orwell's "1984" 
on the Mainstage. Get your tickets to "1984" by calling (352)375-4477 or visiting 
thehipp.org/1984tickets/
.