In recognition of Rusty's legacy, the Hippodrome, together with Rusty's family, has established the Rusty Salling Memorial Fund in his honor. The goal of the fund is to sustain the unbroken chain between the organization that Rusty devoted his life to and the future generations of actors and theatre-goers.
Rusty spent his life in the theatre, living for the stories, the people, and the work that was intrinsic to the success of the Hipp for over 43 years.
Among the myriad things Rusty did, it is no secret that what he cherished most was acting on the Hippodrome mainstage, and during h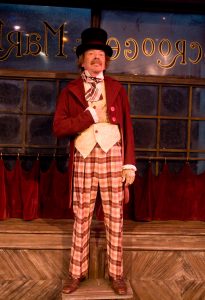 is lifetime, Rusty appeared in exactly 100 performances at the Hippodrome. Rusty appeared in A Christmas Carol for the past 37 consecutive years, delighting children whose screams and laughter could be heard not only in the mainstage, but that were so powerful they penetrated all the way through the ceilings and walls of the building. Such is the memory of Rusty.
Your gift will be used to support the Hippodrome mainstage to continue telling the stories that Rusty held so dear to his heart.
It was always said of him, that he knew how to keep Christmas well, if any man alive possessed the knowledge. May that be truly said of us. – Charles Dickens
We invite you to join us in creating a lasting legacy in Rusty's name.
Please donate generously today