Youth Education @ The Hipp
Hippodrome classes and camps offer North Central Florida's talented youth an outlet for creative expression. We are focused on providing the highest quality education opportunities, inviting your children into the magical world of this historic professional theatre. All of our teaching artists are chosen with great care; we are committed to being kind, encouraging and supportive as we help your children grow.
To learn more and register email Gabby at gabby@thehipp.org

Upcoming Youth Courses and Camps
Mondays, Jan. 27 - March 2
4 p.m. - 6 p.m.
Ages 9 - 16
Improvisation techniques give young actors support on and off stage. This class is designed to give students an introduction to the world of Improvisation through activities and scene work. Each class will highlight one the 3 rules of improv ; Yes And, Make Your Partner Look Good and Go Off The Top of Your Head.
March 23-27
8:45 a.m. - 5 p.m.
Ages 8-17
The Hippodrome's Spring Break camp gives students an opportunity to explore various facets of the performing arts: Improv, storytelling, costuming, prop making, voice, movement, acting for theater and film, and much more. This week long camp culminates in a performance for family and friends.
June 1-5, June 29-July 3 & July 27-31
Full and Half Day Options Available
Ages 5-8
This summer, Hipp Kids will bring a story to life on the Hippodrome's second stage. During each one-week session, campers will exercise their bodies, voices and imaginations while learning their roles and developing their characters. They'll have fun collaborating on behind-the-scenes elements of props, costumes, sets and lights. Then, each Friday, when each camp performs their play, we'll all delight in what they create and share with us on stage at the Hipp!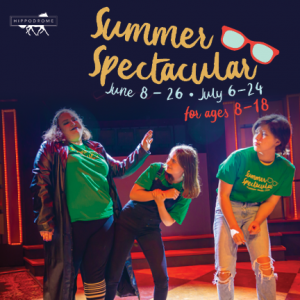 June 8-26 & July 6-24
Ages 8-18
This three-week intensive, taught by seasoned professionals, is designed to give your child a glimpse into the performing arts. Campers will explore a wide variety of theatre concepts, including improv, playwriting, stage combat, costuming, musical theatre, and other fun activities. The camp will conclude with a Mainstage performance where the students can show off everything they learned!