About the Hipp's Education Programs
The Hipp provides quality arts education for all ages. The region's most dynamic and experienced teachers lead our camps and classes. Children are supported as an individual in a non-competitive, enriching environment through a spirit of inclusion, acceptance, and positivity. The Hippodrome also offers a growing roster of classes for adults, including Hipp-provisation, Scene Study, Storytelling, and multiple Play Observerships in conjunction with the Mainstage season.
To learn more and register email Gabby at gabby@thehipp.org

Upcoming Youth Courses and Camps
Mondays, Jan. 27 - March 2
4 p.m. - 6 p.m.
Ages 9 - 16
Improvisation techniques give young actors support on and off stage. This class is designed to give students an introduction to the world of Improvisation through activities and scene work. Each class will highlight one the 3 rules of improv ; Yes And, Make Your Partner Look Good and Go Off The Top of Your Head.
March 23-27
8:45 a.m. - 5 p.m.
Ages 8-17
The Hippodrome's Spring Break camp gives students an opportunity to explore various facets of the performing arts: Improv, storytelling, costuming, prop making, voice, movement, acting for theater and film, and much more. This week long camp culminates in a performance for family and friends.
June 1-5, June 29-July 3 & July 27-31
Full and Half Day Options Available
Ages 5-8
This summer, Hipp Kids will bring a story to life on the Hippodrome's second stage. During each one-week session, campers will exercise their bodies, voices and imaginations while learning their roles and developing their characters. They'll have fun collaborating on behind-the-scenes elements of props, costumes, sets and lights. Then, each Friday, when each camp performs their play, we'll all delight in what they create and share with us on stage at the Hipp!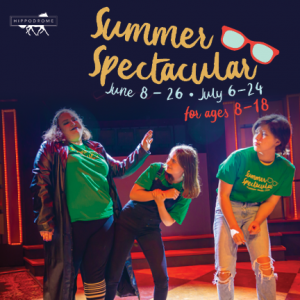 June 8-26 & July 6-24
Ages 8-18
This three-week intensive, taught by seasoned professionals, is designed to give your child a glimpse into the performing arts. Campers will explore a wide variety of theatre concepts, including improv, playwriting, stage combat, costuming, musical theatre, and other fun activities. The camp will conclude with a Mainstage performance where the students can show off everything they learned!
Youth Education @ The Hipp
During the summer, the Hippodrome offers two 3-week arts education summer camps for ages 8-18, where students learn about theatre, perform on the mainstage, speak in front of an audience, and exercise their imaginations in an enriching environment. The Hippodrome also offers a separate track for teenagers who are interested in the technical aspects of theatre. For children ages 5-8, we offer three 1-week camps at a less intensive pace. Throughout the rest of the year, youth acting classes and camps are offered after school, during public school breaks, and in single day workshops on school district holidays.
Jan. 11, 18 & 25 
10:30 a.m. - 12 p.m.
Ages 16+
In this Intro to Improvisational Theater workshop series, we'll be exploring the three fundamentals to performing on stage without a script: Acceptance, Spontaneity, and Teamwork. Through a series of exercises and guided coaching, beginner improvisers will learn to trust themselves and each other as they navigate uncharted theatrical territory together. Students who complete the series will leave with a new, powerful sense of comfort with the unknown, an ability to trust and play with new friends and wacky ideas, and an excitement to get on stage and build exciting creative experiences together.
Mondays, Jan. 20 - Feb. 24 
6: 15 p.m. - 7:30 p.m.
Ages 17+
This six-part series aims to give the tools to think off the top of their heads, support their scene partners and use this information to create a long form piece.  This class is designed for anyone who wants to explore the world of theatrical improvisation. Participants will work with Matthew Lindsay, an experienced improv teacher and long time Hippodrome Theatre Company member, to create scenes and tell stories.  In addition, participants will learn how improv can help them unlock creative potential, solve problems, listen and react, and make more effective decisions. No previous experience is necessary.