About the Hipp's Community Events
Come see what the Hipp has to offer on our second stage and Lower Level! Second stage programming includes different series and events such as our Jazz Series, improv comedy nights, concerts, swing dance classes, open mic sessions and much more. Something fun is always happening at the Hipp!

Upcoming Community Events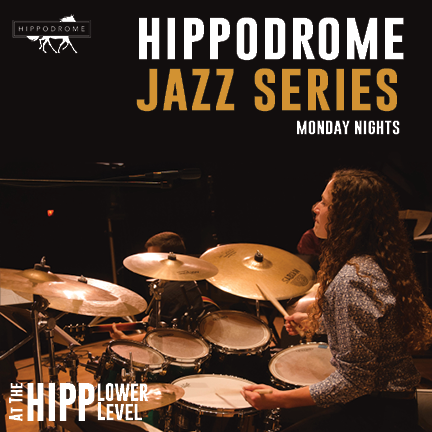 Mondays
February 10 - April 20 @ 7:30 p.m.
The Hippodrome Jazz Series is back! The Hipp is proud to partner with the University of Florida School of Music to bring this hit series back to the Hippodrome Lower Level. 
The Hippodrome is proud to host such talented musicians to bring back jazz and keep Gainesville Hipp!
Wednesday, February 26 @ 8 p.m. 
Improv Comedy Night is back again! Join us as House Improv, Gainesville's premier improv teams, take over the Hipp Cinema!

Get ready to laugh as these hilarious improvisers create hilarious scenes on the fly, never seen before and never to be seen again!

Tickets are sure to sell fast so secure your seat now!
Hipp Unplugged: 26 Pebbles
Hippodrome Company Member, Gregg Jones, directs 26 Pebbles by Eric Ulloa. On December 14, 2012, Adam Lanza walked into Sandy Hook Elementary School and killed twenty-six innocent souls before taking his own life. These twenty-six innocent deaths, like pebbles thrown into a pond, created ripples and vibrations that were felt far beyond the initial rings.
Friday & Saturday
March 6 & 7 @ 11:30 p.m. - 2 a.m.
Put on your dancing shoes and head to the Hipp for a night of swing and blues hosted by the Florida Swing Dancing Club!

All skill levels are welcome and no dance partner necessary! Dance the night away to some blues from 11:30 P.M. to 2 A.M.
Sip & Stroll: Tour of the Hippodrome
This tour gives you access to the sights and secrets of the Hipp that are normally off-limits to the public. This is your chance to get a glimpse behind the scenes of one of the most historic buildings in town!
Admissions comes with one free drink!
Regular admission: $20
Admission and a Hipp T-shirt: $30
Erik Hempel featuring The Modern World
Saturday, March 14 @ 8 p.m.
Influenced by a wide variety of musical styles (the blues, rock, jazz, soul, funk, hip-hop, you name it), Hempel is an incredibly versatile artist who is pioneering his own bold style of music.
At an Erik Hempel show, audiences can expect a thumping bass, a monstrous drum-set, a raging guitarist, a mind-blowing keyboard, an unstoppable horn section, and bluesy vocals which resonate in one's soul!
Friday, March 27 
8 p.m. - 1 a.m.
Come participate in the best salsa night in Gainesville!
A hot night of salsa dancing in the Hipp Lower Level begins at 8 p.m. with a class taught by salsa dancing pros!
At 9 p.m., Elio Piedra brings the party when the floor opens up for an electric night of dancing! Let's spice up the Hippodrome with our salsa skills!
$5 cover all night!
Submission Deadline: April 20
Film Screenings: April 30 @ 5:30 p.m.
The Hippodrome Young Filmmakers Competition is open to all young filmmakers ages 12-18 and is FREE to enter.
Films will be judged based on narrative strength, strong characters, and filmmaking skill. Shorts can be submitted in the following categories: Narrative, Documentary or Animation.
The theme is "What's Your Story?"
The Golem of Prague
an Opera in Three Acts
Join the UF Opera Theatre and the Ocala Symphony Orchestra for the world-premiere of Paul Richard's The Golem of Prague at the historic Hippodrome State Theatre.  
Based on the legend of the Golem, a clay creature brought to life to defend the Jewish ghetto in 16th-century Prague, the story features beautiful singing, haunting melodies, a powerful orchestra, and a supernatural experience. .
Community Events @ The Hipp
Come see what the Hipp has to offer on our second stage! Second stage programming includes different series and events such as our Jazz Series, Improv Comedy Night, swing dance classes, open mic sessions, and salsa dance classes.
For the first time this year, the Hippodrome has added a season of staged readings to complement the work being produced on the Mainstage. The mission of the 10-installment season is to feature plays that deserve to be seen and explored by the community, but may not be able to sustain a run in our Mainstage season. The series will feature new works, up-and-coming playwrights, local playwrights, and challenging content, and will strive to highlight the voices of under-represented groups within the North Florida community and the theatrical community at large. Fifty percent of this first season's offerings are new works.