From time to time, the Hippodrome will call for donations for a specific purpose, or a donor or board member will call the community to action. Here are some recent or ongoing campaigns:
Grande Dames
The Grande Dames of the Hippodrome Theatre is a womens' philanthropy group founded in 2016 by former Hippodrome Board Chair Betsy Styron. This group is set up to align with research from the Women's Philanthropy Institute on how women prefer to give. It meets the Six C's of Women's Giving, which are create, change, connect, commit, collaborate and celebrate.
These remarkable women are honored every year at a VIP celebration in the spring.
The Collier Challenge
Nathan S. Collier, of the Collier Companies, generously offered a 10-year dollar-for-dollar challenge grant against pledges made during the 2019 calendar year. This unprecedented gift will allow the Hippodrome to build up an unrestricted fund to help smooth out the cash flow challenges inherent to the seasonal nature of theatre. The theatre's staff and board of trustees expect it to lay the foundation for growth and an even higher caliber of artistic product in the coming years.
Rusty Salling Memorial Fund
Rusty Salling appeared in exactly 100 Hippodrome productions and worked in some capacity at the theatre for over three decades. The Hippodrome Theatre was Rusty's home for over forty years.
Since Rusty's passing on June 12, 2016, the Rusty Salling Fund has collected over $50,000 to support his ongoing legacy of artistic achievement and community service, according to his family's wishes, such as new artistic endeavors on the mainstage, and supporting artistic internships.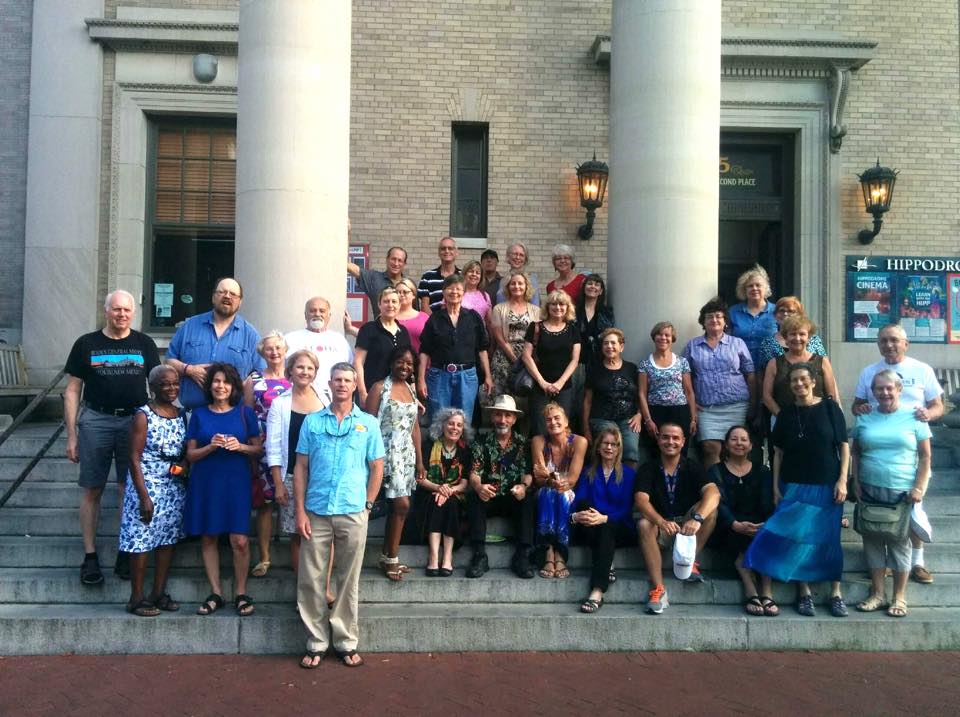 Our volunteers help to create a welcoming and warm environment for all patrons, and we couldn't do it without them. If you are a high school or college student looking for volunteer hours, or just someone who loves to give their time, we have plenty of opportunities for you!
Mainstage Usher
The smiling people who greet you before Mainstage shows are our volunteer mainstage ushers. As a mainstage usher, you will take tickets and distribute programs, help patrons find their seats before the production and after intermission, help people exit the theatre afterward, and help pick up the playbills left in the theater. You will also get to see the show for free!
Cinema Usher
The Cinema is also in need of volunteer ushers. As a cinema usher, you will take patrons' tickets and assist people entering and exiting the cinema.
Both of these ushering sound simple, but they're an essential part of how we keep our audiences safe!
Other Opportunities
Are you interested in helping the gears that make the Hippodrome run like clockwork? Opportunities for volunteering outside of evening ushering events are always popping up in Marketing, Arts Administration, and Education. We are always in need of a helping hand to stuff an envelope, put a label on a postcard, or put a poster up in a window.
Send a message to hipp@thehipp.org if you are interested in any of these volunteer opportunities.
Support the Hipp by supporting our sponsors!
From now through November 11, 2019, visit any – OR ALL – of our restaurant sponsors, and you can win a bundle of four tickets to opening weekend of A Christmas Carol!
When you dine at one of the amazing local business that feed our actors, cater our events, and help us fund-raise, you are not only supporting the Gainesville economy – you are keeping Gainesville Hipp!
Check out their websites below for hours and menus, and then read on to enter:
Snap a photo of your receipt from one of the restaurants above between October 4, 2019 and November 11, 2019, then click the entry button below to submit your name, email, and receipt photo. Only one entry per restaurant per day will be counted.
Winners will be selected and announced November 15, 2019. Eight (8) random names will be selected, one from each pool of restaurant submissions, to receive a pack of four (4) tickets to opening weekend of A Christmas Carol, performance dates November 30, 2019 and December 1, 2019. Tickets may not be exchanged for cash value.
A Christmas Carol is a Gainesville Holiday Tradition for over 40 years!
This season, we are producing a new version of the timeless holiday classic, commissioned just for Gainesville!
A Christmas Carol, by Niall McGinty
directed by John Gray
Nov 30 – Dec 22
Saturdays at 2 & 4 PM | Sundays at 6 PM

The Sex With Strangers digital program is now available for viewing! Take a peek before you slide into your seats.
---
Nell Page talks about her role as Clara Nowak in "Miracle on South Division Street".
A note from the Hippodrome's Artistic Director, Stephanie Lynge.
One of the questions I'm always asked is "How do you choose the plays at the Hippodrome?" I thought it would be fun to let you look behind the scenes to see how it works.
I have always believed that the Hippodrome is a community and I thought "What better way to have a diverse, thought-provoking, and inclusive season than to have members of that community help read and winnow down the massive amount of plays we read each year?" So, in December, I reached out to the Hippodrome Company Members to join our inaugural Season Selection Team.
Twelve wonderful volunteers joined me on a three-month long play reading extravaganza. From all over the country, they read plays on subways, planes, backstage during shows, and probably when they were supposed to be working their office jobs (thanks guys!).
As a team, we read over 150 plays — each one had two different readers so you can imagine the time that took! In early February, we met to discuss the plays we had "passed through." We met in person and on line (Facetime is a wonderful invention).
Company member Kelly Atkins described the process best:
"Our job was to narrow down which stories would be serviced the best by the unique venue and talents that make up the Hippodrome. The task was not easy, but with a great deal of consideration amongst the committee, some strong front runners became clear."
Ryan George also explained the experience:
"We all come from different backgrounds and life experiences so being able to openly talk about which plays moved us, challenged us, and would be best for the community of Gainesville couldn't have been more rewarding.
The team narrowed down the field to 22 plays (plus Christmas shows), and we met again two weeks later to bring the final number of possible shows to 10 (ok, it was 11 – I couldn't help myself).
Gregg Jones shared his insights:
"It was a joy to be involved with the other committee members, some of whom are fellow actors, in making choices that would provide powerful storytelling for our audience and community. The bonus was getting to read some VERY well-written plays that are stretching the boundaries of what we know as dramatic literature. "
Now, the staff and production team at the Hippodrome are busy reading the final group of plays. The designers will weigh in from their technical perspectives, the house managers will share their opinions gleaned from talking to our patrons over the years, and our magnificent marketing department will tell us how best to share these amazing stories with the Gainesville area.
We know you are excited to hear what the new season will hold, and you will know soon. On March 30th we will publicly announce the 2019-20 Hippodrome Season, so stay tuned.
I will leave you with the words of one of the Hippodrome founders, Bruce Cornwell, who was kind enough to join our selection team:
"As one of the founders of the Hippodrome who has not been directly involved with the acting company for quite a few years, I felt honored and excited to be invited onto the Season Selection Team this year. The experience has been rewarding in so many ways. But the real gift of this process has been discussing the scripts with members of the Hipp's acting company who were on the selection team. That's when I got to witness firsthand what a knowledgeable, insightful group of actors comprise this theatre's company! The discussions were spirited and intelligent. The different points of view and the life experience each member brought to the discussion provided challenge and heartfelt perspective. I can't wait to see what Stephanie announces as the 2019-2020 season!"
Me too Bruce. Me too.