May 18, 2018 By Shaina Worhacz Comments are Off
Congratulations Emily and Nicholas! This lovely couple had a gorgeous ceremony at the Baughman Center and then celebrated their reception here with us at the Hippodrome. Before the reception, they used all the photo opportunities of Downtown Gainesville.
At the end of their special day, they had a bubble send off with all their friends and family. We were so lucky to celebrate with them! Find out more about how you can rent the Hipp today at thehipp.org/rentals. | Sworhacz@thehipp.org | 352-373-5968 X 217.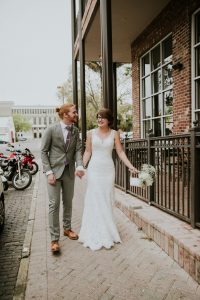 Photographer- Emily Staubus Photography